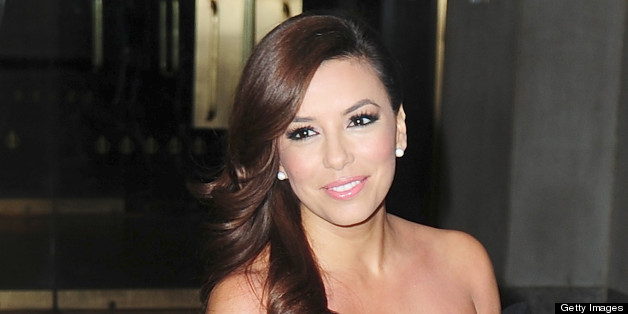 "Mother Up!" is a 13-episode, half-hour adult animated comedy series starring Eva Longoria that sounds suspiciously and tantalizingly like an animated version of "Desperate Housewives."
The series, developed by Rogers Media and co-produced by Breakthrough Entertainment is about a former street-smart but now disgraced big city music executive turned suburban supermom with one catch: Rudi Wilson, voiced by Longoria, is not a very good parent. Fans of Adult Swim will surely enjoy following Rudi on her journey of misadventures as she attempts to navigate the challenges and pitfalls of suburbia and parenting.
"She's a crazy, irresponsible mother, that all mothers fear they are," Longoria told the Hollywood Reporter of her new character and added "She barely keeps her kids alive with bizarre, improvised solutions to the endless challenges of parenting."
Eva Longoria hopes to target women with animated series
Eva Longoria, who is also executive producer, is excited about the project noting that "there is a big void in animated television for women." Dubbed the female version of "Family Guy," the new show is expected to fill that void. "Family Guy" and "American Dad" have dominated ratings with the male demo for years. "Mother up!" is expected to level the field some with female audiences who enjoy the edgy tone and mature humor associated with adult animated comedies.
The new NBC reality series "Ready for Love," which is produced by the multi-talented star, is off to a dismal ratings start but, while Rudi Wilson's world may be a long way from Wisteria Lane, Longoria is apparently having a blast with this voice-over gig which also marks her first return to television since "Desperate Housewives."
"I always find you have so much more freedom as an actor with your voice when you're hiding behind an animated character, as opposed to live action," she said. "You could never do this in live-action. In animated series, you can really push the envelope and make fun of motherhood." She added, "There's a lot of drinking. Not even in the show, just me in the sound booth."
"Mother Up!" will debut in the fall of 2013 on Canadian broadcaster's City TV and will also be available exclusively in the U.S. on Hulu and Hulu Plus subscription service. Breakthrough Entertainment is counting on Longoria's star appeal with international audiences and will distribute the series worldwide outside of North America.
Originally published in VOXXI as Eva Longoria is 'mothering up' in a new animated series
BEFORE YOU GO
PHOTO GALLERY
Eva Longoria's Accomplishments Through The Years