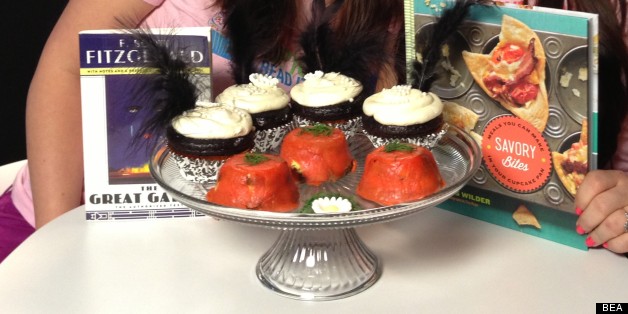 For our third episode of our ongoing series collaboration with Book Expo America, "Have Your (Cup)Cake And Read It Too," Cassandra and I tackled F. Scott Fitzgerald's classic The Great Gatsby.
We were joined by special guest Hollis Wilder, who is the three-time winner of the show Cupcake Wars and the author of the new book Savory Bites: Meals you can Make in your Cupcake Pan.
In addition to our Gatsby-themed cupcake, we also have a delightful Gatsby-inspired mini meal made by Hollis!
Check out the video, photos and recipes, and incorporate into your next book club gathering! Really, our Gatsby cupcake would work for any book that is set in the Roaring Twenties! You could even enjoy this cupcake in celebration of Baz Luhrmann's upcoming Gatsby adaptation!
Missed our previous episodes? Check out cupcakes for Life of Pi and The Fault in Our Stars!
PHOTO GALLERY
'Great Gatsby' Cupcake, Meal