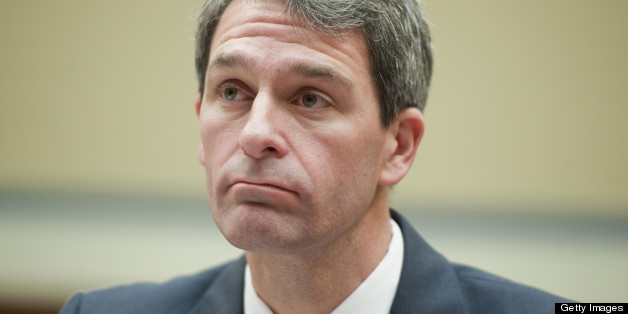 Virginia Attorney General and gubernatorial candidate Ken Cuccinelli (R) has long been called "extreme" by women's rights groups for his efforts to outlaw abortion in the state. But a radio ad released Tuesday by a national anti-abortion group insists that it is in fact his Democratic opponent, Terry McAuliffe, who holds extreme views on abortion.
"In the race for governor, there's one candidate who has taken extreme positions far outside the mainstream … one candidate whose radical ideas are troubling to every woman in Virginia," a female voice says in the ad. "It's Terry McAuliffe."
The $50,000 ad, sponsored by Susan B. Anthony List's new PAC, "Women Speak Out Virginia," attacks McAuliffe for opposing an onerous new set of abortion clinic regulations that could shut down all of the clinics in the state. Cuccinelli actively worked over the past two years to ensure that Virginia's Board of Health passed the so-called Targeted Regulation of Abortion Providers (TRAP) rules, which require first-trimester abortion clinics to meet the same physical building standards as newly constructed hospitals.
"McAuliffe refuses to require women's health clinics to provide the same sanitary environment we expect of dental offices and hospitals," the ad says. "McAuliffe is bowing to the political pressure from powerful corporations that run women's health clinics."
According to NARAL Pro-Choice Virginia, a vast majority of Virginians oppose the new abortion clinic requirements. Of the 5,921 comments submitted on these regulations during the most recent public comment period, 81 percent were in opposition.
"This yet another attempt on the part of anti-choice organizations to repeat a lie until it becomes truth. TRAP regulations have absolutely nothing to do with protecting women's health and safety," said Caroline O'Shea, deputy director of NARAL Pro-Choice Virginia. "Instead, they are an insidious back-door ban on safe, legal abortion care through unprecedented regulations not required of any other outpatient facility in the state."
In launching the new ad, Susan B. Anthony List tied Virginia's new abortion clinic regulations to the trial of Kermit Gosnell, a Pennsylvania man accused of performing illegal, gruesome late-term abortions in an unregulated clinic. Gosnell is thought to be responsible for the deaths of hundreds of newborns and has been charged with eight counts of murder.
"In light of Kermit Gosnell's 'house of horrors,' it is an outrage that anyone who purports to care about women would oppose efforts to ensure that Virginia women are treated with basic dignity and respect," said Mallory Quigley, communications director for the group. "More than 80 violations have been discovered in Virginia abortion clinics including blood-stained equipment and operating tables, improper disposal of fetal remains, staff failure to properly sanitize instruments, and even doctors performing exams with unwashed hands."
The inspections noted by Quigley were performed last summer by the Virginia Department of Health to monitor the clinics' implementation of the new regulations. While the reports do note several infractions, each of Virginia's 20 clinics subsequently received unconditional licenses from the Virginia Department of Health and have since been inspected again.
McAuliffe's campaign said Cuccinelli should be focusing on the economy, not on restricting women's health care decisions.
"Ken Cuccinelli has spent his career on a divisive ideological agenda, so its no surprise he'd make it the center piece of his campaign," said McAuliffe spokesman Josh Schwerin. "Ken Cuccinelli forced his divisive ideological agenda on Virginian women and it is already having real world ramifications. Cuccinelli himself said that these unnecessary regulations are designed to 'make abortion disappear in America,' and already we've seen a women's health clinic be forced to close."
BEFORE YOU GO
PHOTO GALLERY
Lies GOP Tells About Women's Bodies