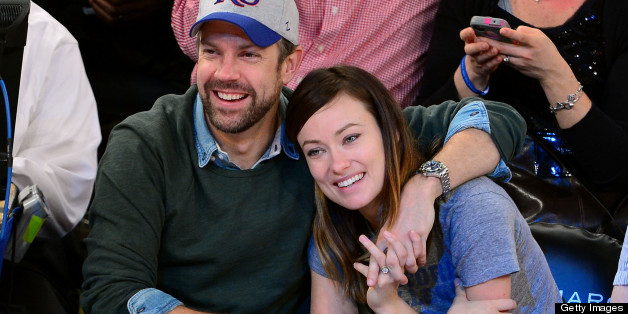 If you're lucky enough to score an invitation to Olivia Wilde and Jason Sudeikis' wedding, be sure your passport is up to date.
Wilde joked to ABC News that she and Sudeikis think they should get married in Uganda, where their friends, filmmakers David Darg and Bryn Mooser, will be shooting their next movie.
"In order to have them at the wedding, I'm going to have to follow them where they go," Wilde told ABC News Tuesday.
Another possibility? Haiti, where Wilde does volunteer work. But she admitted that she, Sudeikis and her mother would be the only people who would want to go to Haiti for a wedding.
"No one would show up!'" Wilde said. "[Also], when I'm in Haiti, within three seconds of getting off the plane I am red-faced, usually broken out and really sweaty. It would be a red-face, acne wedding."
While she hasn't settled on a location or a date, Wilde said Monique Lhuillier will design her gown and bridesmaids' dresses. She also revealed that her engagement ring is from the 1920s -- and that she prefers wearing vintage diamonds.
"I think when buying stones, enough of them exist in the world, so there's no reason to be buying new diamonds," she said.
The couple met at the "Saturday Night Live" finale in 2011 and began dating six months later. They confirmed their engagement in January. According to reports, Wilde has previously said that she might get married in upstate New York.
Click through the slideshow below to see photos of other engaged celebs.
Keep in touch! Check out HuffPost Weddings on Facebook, Twitter and Pinterest.