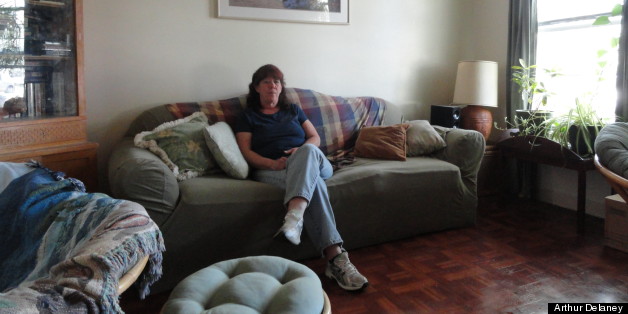 FREDERICKSBURG, Va. -- There's nothing Deidre Duffy would rather do than host a backyard barbecue for a few friends.
"I don't want anything fancy," Duffy, 53, said in an interview next to her black Weber grill. "Give me some charcoal and I'm going to shoot those flames about six feet high, and when they come down -- it's my favorite thing."
Not long ago, she imagined she'd be watching from the hammock with a belly full of grilled food as the sun set over her new back fence, and then in the darkness she'd keep warm by the fire pit with classic rock from the den wafting through the screen door.
But now Duffy's broke, thanks to insufficient work. She is one of the 7.6 million Americans involuntarily working part-time.
Plans to put up the fence are on indefinite hold, and she sold the fire pit and the hammock and other belongings on eBay to keep the lights on inside the two-story home where she lives with her 17-year-old son. She feels she's as likely to lose the home to foreclosure as she is to host her dream barbecue.
"This has been the biggest nightmare of my life," she said.
Duffy skirts the precipice of poverty with annual income from part-time jobs as a cashier and bartender, along with child support, keeping her just a few grand above the federal poverty for a family of two. This year, that's $15,510.
If Duffy should drop below that line, she'll probably have company in her tree-lined subdivision. For the past half-century, poverty has been associated with inner cities. But the poor population is increasingly suburban, with 16.4 million of the nation's 48.5 million poor living in suburbs as of 2011, according to the Brookings Institution. The previous decade saw poverty rise 28.7 percent in U.S. cities and 63.6 percent in suburbs.
Duffy has seen the change firsthand. "When I first moved here in 2000, everyone owned their home," she said. "That was the big boom. And then now there's Section 8, there's a lot of renters. Last year there were so many empty houses on the block. Just like the rest of the country."
Poverty's lurch toward the 'burbs reflects the dispersion of jobs and affordable housing, and potentially strains suburban municipalities not equipped to handle the need, according to Elizabeth Kneebone, a Brookings fellow and co-author of a forthcoming book about suburban poverty. The Great Recession has accelerated the trend as missing middle-wage jobs are being replaced by the kind of low-wage work done in strip malls along suburban thoroughfares.
"The jobs that are growing fastest are jobs that don't pay very high wages," Kneebone said. "Lower-wage jobs are among the most suburbanized."
Duffy has tried to break into the world of higher wages, pursuing a criminal justice degree from Virginia Commonwealth University. She had hopes of landing a job as a forensic science technician, or at least something in an office. But she had the misfortune of graduating in December 2007 -- the official start date for the Great Recession. As she searched for a new job, her income from tips gradually dwindled. Then her shifts did, too.
"Four nights a week reduced to one night a week. I'm the slowest to realize what's going on," she said. What was going on, Duffy now thinks, wasn't just slack business conditions -- she figures management thought younger help would be better for business.
Basic expenses went on credit cards, and Duffy suspects bad credit prevented her from getting a better job. A Demos survey of middle- and low-income Americans revealed nearly 10 percent said they'd been denied jobs due to bad credit last year. Duffy's certain that's happened to her on at least a few occasions. As evidence, she points to a letter she got from Capital One responding to her application for a call center job she'd held there more than 10 years earlier.
"Unfortunately based on information we have received you are not currently eligible for rehire," the letter said. Duffy hasn't got a criminal record, just a trail of debt and missed payments that help HR managers sift through surplus applicants in a slack economy.
"When all this started, all I could think was, 'Please, God, do not let me end up working in a grocery store,'" she said. "I just didn't want to. I just got my degree -- that had to be something."
Sure enough, during one of her last shifts at the bar midway through 2011, a regular told her about an opening at the nearby Wegman's grocery store, and that's where she works now for 24 hours a week, earning $10.80 an hour. Wegman's provides health benefits and is well-known for having happy employees, and Duffy says she loves her job and hopes she can eventually land a full-time position.
"It's like bartending without having the drunks," she said. "Everybody pays their tab, nobody throws up. It really turned out to be one of the best things that happened to me in two years: I'm a part-time cashier in a grocery store."
Nevertheless, she's still hurting for money. It's not unusual for people to remain poor even though they have jobs. More than 10 million Americans fell below the poverty line even though they were working in 2011, according to the U.S. Labor Department. People who work in service jobs, like Duffy does, represent one-third of the working poor, and 13 percent of all people in the service industry counted as poor in 2011.
Duffy fell behind on her mortgage that year, and efforts to set up a repayment plan proved futile. She applied for bankruptcy protection last June to stop the bank from taking her home, but she's missed a few mortgage payments since then and has continued to receive foreclosure notices. She said her bankruptcy payments went up, and a series of 40-cent raises at work disqualified her for food stamps, which she'd received the previous two years.
Being almost-poor in Fredericksburg, at least in Duffy's case, doesn't mean destitution. It means having $20 a week for food and no air conditioning and no phone until the bill gets paid after the first of the month. It means no money for home improvement: a half-finished paint job inside and a backyard in disarray with overgrown weeds and loose bricks submerged in standing water, apparently the result of some neighbor's drainage problem. No barbecue, and perhaps before too long no more house.
Duffy's son has been a trouper about it all, she said, and she hopes it might serve as a valuable lesson. She reassured him that things change.
"Nothing is going to suck forever. Everything comes full circle," she said. "The people you're seeing now, life is good, they have these different things and they go these different places -- you never stay in one spot. We're just at the bottom of the coaster here."
BEFORE YOU GO