French fry-stuffed sandwiches are a real phenomenon, and as those familiar with them will tell you, they're fabulously indulgent.
Consider the fry-laden sandwiches from Pittsburgh's famous Primanti Bros; the fry-stuffed "Fat Sandwiches" from Grease Trucks like R U Hungry at Rutgers University; or falafel and shawarma sandwiches topped with fries, sold at shops the world over.
Now, another creation joins their rank: Chili cheese fry-stuffed burritos from Del Taco.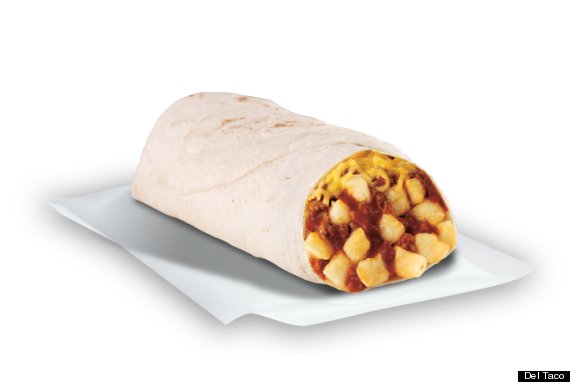 The new offering, the Chili Cheese Fry Burrito, features beef chili, cheddar cheese and the chain's crinkle-cut fries wrapped inside a flour tortilla.
It's part of Del Taco's recently installed "New Tastes" menu section, which also includes a Bacon Ranch Grilled Chicken Taco and a Fiery 6 Layer Burrito. The additions are linked to the chain's recent announcement that it would revamp its logo, give its stores a makeover and introduce another menu section, "Buck & Under." Del Taco also plans to launch an ad campaign with the tagline, "UnFreshing Believable."
As other fast food outfits move to offer healthier meal options, it seems Del Taco is heading in the opposite direction. Perhaps it's aiming for a bite of the late night (or stoner?) demographic, which chains like Taco Bell and Jack in the Box have eagerly courted with their respective "Fourthmeal" and "Hot Mess" promotions. For what it's worth, the calorie count for the Chili Cheese Fry Burrito clocks in at 420.
BEFORE YOU GO
PHOTO GALLERY
Mind-Blowing Fast Food Inventions