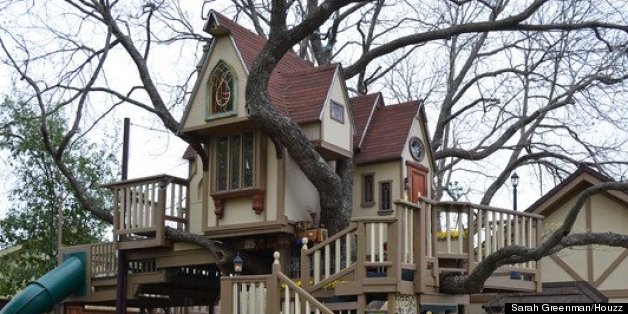 Playing house has never looked this realistic.
Pictures posted on Houzz, a website for homeowners and design professionals to share photos and stories, show what might very well be one of the most stunning children's playhouses we've ever seen. When grandparents Steve and Jeri Wakefield of Dallas wanted to give their two grandsons the treehouse of their dreams nine years ago, they tapped good friend and architect James Curvan to design the home.
We say home because this is no slapped together wooden box of a play place. The 100-square-foot structure has a wide deck, "steeply pitched gables, multilevel decks and staircases," Houzz reported, and is filled with found objects, antiques, and repurposed objects. As the boys got older, additions like a zip-line, climbing wall and suspension bridge were made. Now the Wakefields invite neighborhood children to play in the home.
Visit Houzz for more details on the treehouse's construction and check out the jaw-dropping pictures below.
BEFORE YOU GO
PHOTO GALLERY
Grandchildren