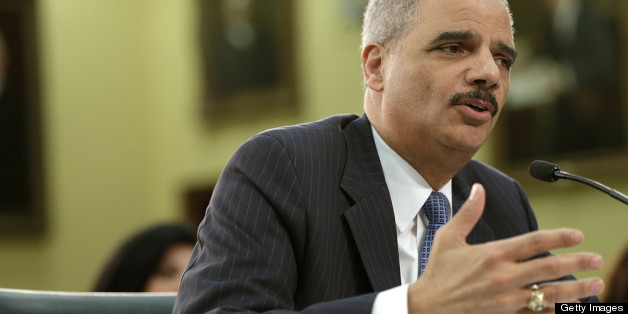 WASHINGTON -- The Justice Department "will not need to furlough any employees this fiscal year due to sequestration," Attorney General Eric Holder said in a letter to workers on Wednesday.
Holder said additional funding and "aggressive steps to freeze hiring and cut contracting and other costs" allow the department to avoid forcing employees to take time off without pay this fiscal year. Holder told employees the department was "still making difficult choices to cut important contract spending and training activities, as well as imposing a strict hiring freeze."
"Few, if any of the extraordinary actions we are taking now to avoid furloughs will be available again next year, and thus furloughs are a distinct possibility at the beginning of the next fiscal year if sequestration levels continue," Holder wrote.
The Justice Department warned last year -- before sequestration took effect -- that the automatic budget cuts could force more than 100,000 of its 116,000 employees to be furloughed for an average of five weeks this fiscal year. Holder told a Senate appropriations subcommittee in March 2012 that the cuts would affect FBI agents and prosecutors and "would just simply be devastating," according to the Federal Times.
Rep. Frank Wolf (R-Va.) said the Justice Department faced financial issues because of its purchase of the Thomson prison in Illinois for $165 million in October. The facility, nicknamed "Gitmo North," had been designated for Guantanamo detainees. The Justice Department later said it wouldn't use the prison for Guantanamo detainees, but instead would use it to relieve overcrowding in other federal prisons.
"You really created a mess with your bailing out the State of Ill. with the Thomson Prison purchase," Wolf said in a hand-written note at the bottom of a letter to Holder on Wednesday. "This will continue to create problems for the Justice Dept., especically the employees."
Holder said that wasn't true.
"I must take issue with your repeated contention that the acquisition of the Thomson prison has somehow placed the Department in this financial situation," Holder wrote in a letter to Wolf. "As you know, the buying of Thomson was accomplished through the use of funds unconnected to the operating budget of this Department and in no way caused the potential harm that you and your colleagues have helped to alleviate."
UPDATE: Wolf issued this statement on Thursday:
With all due respect to the attorney general, as chairman of the Commerce-Justice-Science Appropriations subcommittee, I know that all of the funds spent last year to acquire Thomson – over the direct objections of Congress – could have instead been used to alleviate furloughs this year. The department used $14 million from Bureau of Prisons operational accounts and $151 million from the Assets Forfeiture Fund to purchase Thomson Prison. Every dollar of those amounts could have instead been made available this year through reprogramming to mitigate furlough impacts. Instead, the department has had to raid funds from FBI and U.S. Marshals Service operational accounts to prevent furloughs now. These law enforcement agencies are now literally paying the price for that misguided decision.
BEFORE YOU GO
PHOTO GALLERY
Politicians Give Back Pay In Solidarity