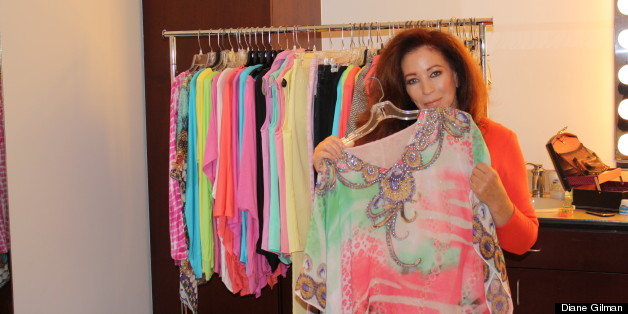 One of the reasons I started my website is that I wanted a place for women to come together and dream. We women need to know that we don't have to hang on to an old dream that has stopped nurturing us -- that there is always time to start a new dream. This week's story is about a successful clothing designer who let herself go when she lost her partner to cancer. After a period of grieving, she pulled her life back together by losing weight and designing a line of jeans for aging women. Today, her wildly successful line, Diane Gilman Jeans, is worth $120 million. What a comeback! -– Marlo, MarloThomas.com
By Lori Weiss
From the time she was a child, Diane Gilman knew exactly who she wanted to be. Captivated by an image of a young model on the cover of Seventeen Magazine, who was posing in front of the New York City skyline, she set her sights on the city. By the time she was eight, she was hiding her little sewing machine under her bed, pulling it out and sewing herself dresses in the darkness of night. Diane was determined to live the high-fashion life she imagined.
So, while her parents would have preferred that she become a kindergarten teacher, no one was surprised when she followed her own path.
"I opened a store," Diane recalled, "on Fairfax Avenue in Los Angeles with a group of girls. We sewed everything ourselves and became known for an A-line, Twiggy-kind of dress. It was 1967, so they were all made with crazy prints and appliqués. Everything in the store was ten dollars."
"One day, not long after we opened, a white Rolls Royce pulled up. Cher walked in and after a few minutes, she motioned to the driver. She bought every dress in the store and she needed help getting them to the car. So, there was Sonny and the chauffeur carrying out all our merchandise!"
Diane had stepped into celebrity circles without ever leaving her store, and that same kind of karma seemed to follow her. When she moved to San Francisco, she realized her neighbors were the members of the rock n' roll band Jefferson Airplane. And a record agent she was dating took her to see someone who was then an unknown artist -- Janis Joplin. Soon, she was embroidering, embellishing and painting the jeans the super stars of rock wore on stage.
"There were no stylists back then," she explained. "The industry wasn't what it is today. There weren't gigantic barriers between celebrities and everyday people."
Diane became the Queen of Really Cool Jeans -- a title that would serve her well many years down the road. But at that moment, the young designer still had the bright lights of New York in her eyes. So she moved to the country's fashion capital -- and landed something a little more modest -- a job selling foundations at Bloomingdales. But once again, she was in the right place at the right time.
"I wouldn't call it a primo job," she laughed. "This was way before Madonna made the bullet bra famous! It was the old ladies foundation department. But one day I spotted the store's fashion coordinator and I told her I had a little line of my own. And she agreed to look at it."
Actually, she did more than just look. Bloomingdales placed a $100,000 order and helped Diane manufacture a line of satin baseball jackets in colors that glowed in the dark and managed to get the attention of all the major retailers in Manhattan. Her next venture, the Cabal blouse, found its way into the windows of stores throughout the city and sold millions.
Article continues below slideshow.
PHOTO GALLERY
It Ain't Over: Diane Gilman
Diane had become not only the girl on the magazine cover, but on television screens as well -- eventually selling millions of dollars worth of fashions to HSN shoppers. But behind the scenes, life wasn't as glamorous as it seemed. The love of her life was slipping away after struggling with cancer for seven years. And despite her success, just like any other woman who loses the man she loves, she found herself alone and grieving at 50.
"You leave that memorial service and you walk through that front door, into the space you've shared with them, and the crashing silence is deafening. You leave the TV on for companionship. You start eating for comfort. I gained 60 pounds. And one day I looked in the mirror and wondered who the woman looking back at me was."
"I remember," Diane continued, "walking down the street and there were groups of people walking past me, laughing and joking. And I asked myself when the last time I laughed was, and I couldn't even begin to remember."
After years of caring for her partner Jim, Diane realized it was time to start caring for herself.
"I finally got up the courage to go see a doctor. And when he walked in, I saw his head snap back. He said, 'Diane, why don't you get on the scale. I closed my eyes. But he pried one open and said you'd better take a look. You're a half a pound away from obesity."
"I walked to Central Park and cried. And then I pulled out a piece of paper and made a list of everything I could do and everything I wanted to become. I realized I had to reinvent myself. And if I was going to do that, I could be anyone. So I decided that I wanted to be seen as an experienced, sharp business woman with a big touch of glamour and I went to work on that. I began losing the weight I'd gained and started styling myself the way a stylist would."
And as Diane worked towards building that image, the extra weight continued to melt away. She began to remember who she was and with that, she also remembered what once made her so happy. The former rock n' roll designer simply wanted to get back in her jeans.
"I realized I hadn't been in jeans in a decade,' she said. "But I thought, 'How hard could this be?' They must make jeans for chubby teen-agers. I'd walk into a jean store and there were lots of styles, but everyone who worked there was 35 years younger than me. You could just see they were thinking, 'There's no way she's going to get into a pair of jeans here.'"
"Whether you're a fashionista or a woman who leads an everyday life, chances are at some point you had a great pair of jeans that made you feel really sexy. We took for granted that we'd always have that. But I learned pretty quickly that it doesn't work that way. The one thing that seemed impossible was finding a pair of jeans. And that seemed really wrong to me. So I decided to use myself as a fit model and design a pair of jeans that would fit a woman's body as she aged."
So at the age of 59, Diane went back to where she began. She launched a line of jeans for women just like her.
"HSN put me on the air at five in the morning, and we sold 5,000 pairs in three minutes! I called my business partner at 6AM and said, "I'm telling you, we've got something here."
Since then, the ageless designer has sold seven million pairs of jeans and her denim line is worth 120 million dollars. Once again, she has become exactly the woman she imagined she could be. And she's not only found herself, she's found love again.
"You have to take every day that you're healthy and energetic," Diane said adamantly, "and see it as a gift. There is no blanket solution for aging. But this can be a time of discovery for you. You can put together your own recipe and paint a picture of who you want to be."
"If you had told me when I was 30, that I'd like myself better in my 60s, that would have been incomprehensible to me. But these have been the best years of my life. And I can't wait to see what's next."
Add Marlo On Facebook:
Follow Marlo on Twitter:
Sign up to receive my email newsletter each week - It will keep you up-to-date on upcoming articles, Mondays with Marlo guests, videos, and more!