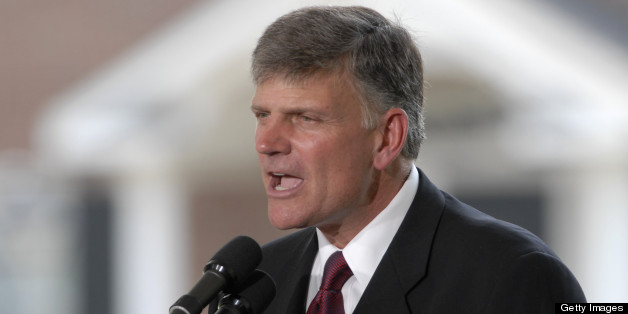 Rev. Franklin Graham on Wednesday suggested that movies and video games depicting violence should be subject to extra taxation.
"How much violence as a nation are we willing to accept?" Graham asked Wednesday, according to the Rock Hill Herald. "We tax cigarettes, we can tax violence."
Graham's comments came during a break from a disaster relief training session for his group Samaritan's Purse. He also suggested that more gun laws would not solve problems of violence inflicted by those weapons, instead claiming that current measures needed to be better enforced.
Last month, however, Graham did come out in favor of universal background checks for gun purchases. A measure to expand background checks later failed in the Senate.
Criticism of violent video games and movies has been rampant in the debate that has cropped up in the aftermath of the December mass shooting in Newtown, Conn., and has sometimes been used as an alternative to considering gun control. Congressional lawmakers on both sides of the aisle have pointed fingers at the entertainment industry as potential catalysts of real violence, and President Barack Obama has called for government-funded research into video games for possible connections.
While prior studies have been unable to clearly and consistently identify a correlation between violent video games and aggressive behavior, some state lawmakers have already gotten ahead of the discussion with legislative proposals to impose extra taxes on such products.
ALSO ON HUFFPOST:
PHOTO GALLERY
BEFORE YOU GO
Things Being Blamed For Sandy Hook
PHOTO GALLERY
Things Being Blamed For Sandy Hook