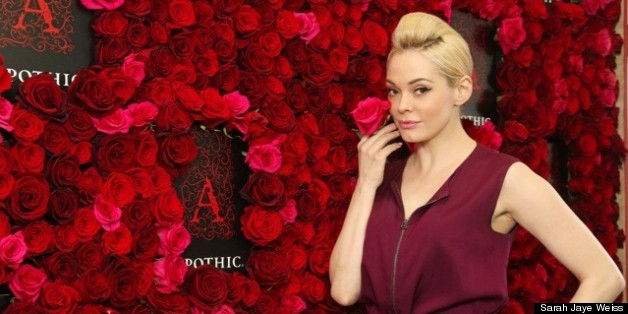 These days, our knowledge of celebrities too often originates with paparazzi images and snarky quotes by anonymous "insiders." After a while, it's easy to forget that stars are real people. That's why HuffPost Celebrity decided to launch its all-new #nofilter quick-fire question-and-answer series. Because how well do you know someone until they've shared their guiltiest pleasures?
Who knew that Rose McGowan only drank rosé wines? Cheesy as it may sound, the 39-year-old "Once Upon A Time" actress dryly admitted to Huffington Post Celebrity that the pink drink was her sole wine of choice as we caught up with her Wednesday at New York's Gramercy Hotel, where she was promoting a limited edition of Apothic Rose Wine. Sitting cross-legged on a plush couch, McGowan also told us about how she's transitioning from acting to directing, what she does to relax and that time she may or may not have stolen a car.
How did you get involved with Apothic Rose Wine?
Well ironically, I only drink rose wine, for real. I was lucky to become involved with this company, and Apothic Rose is such a cool name, it's very strong. And I love that it's seasonal, so just a special, short-time-only thing. It's like wearing an evening gown and then you have to return it.
How often do you drink wine?
Oh every day, in the morning. [Laughs] Probably three or four times a week. In Los Angeles, you have a great outside area, outside fireplace, so my friends sit around it and actually drink this.
What's been keeping you busy?
I just directed something for Ridley Scott's company, RSA Black Dog; it's his commerical music video division. It's a short film set in 1961. I wanted to explore young women's sexual politics of that era before it turned into the late '60s. That's a tiny moment in time, it's almost as if after Kennedy got shot, all the innocence went away. Also all of those '50s moms telling you what you had to be like, what you had to do. So I wanted to explore that tiny twilight period of the '60s. I also found another feature to direct in the next five or six months. I'm acting of course still, but I look at it more like waitressing. It's going to be my day job.
So you want to make the transition from being in front of the camera to being behind it?
Yeah. And I don't want to be on camera, I don't want to direct myself. I was never trying to be an actor, so I've never had any great desire to be on screen. I know I'm good at what I do, but I could take it or leave it.
How did people react to you after you did "Grindhouse," in which your character has a machine gun as a prosthetic leg?
They come up to you and they're like, "Oh, you grew your leg back!" I deal with that about five times a day.
Have you ever stolen anything?
I stole a wallet at a movie theater once. A woman next to me had left it and it had all her IDs in it, but I didn't give it back to her. It didn't have any money, I think I just needed a wallet at the time. I felt so bad about it that I never stole anything again. I was 14. Oh, I guess I also stole a car, but that's a whole other story.
What's one question you wouldn't ask yourself?
Do you believe in magic?
What do you wear to bed?
Underwear. I'm sorry, but I can't get up and catch a robber in the middle of the night with no panties on.
If you were on death row, what would your last meal be?
Rice pudding. Kozy Shack brand.
How did you get on death row?
Shooting people who kill animals.
What's the first thing you reach for when you need to decompress?
I can't say. [beat] It's legal in California though.
BEFORE YOU GO
PHOTO GALLERY
They said WHAT? #nofilter