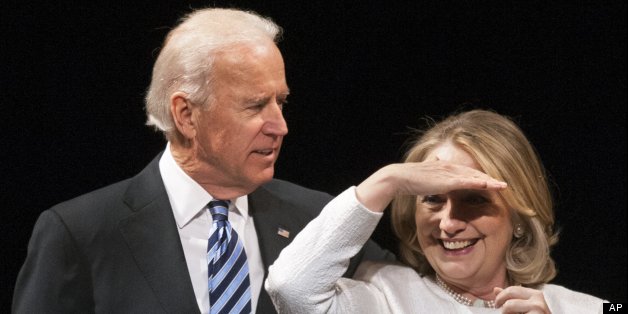 Hillary Clinton is the very early favorite in New Hampshire's 2016 Democratic presidential primary, two polls released this week find.
If that state, which traditionally holds the nation's first primary, went to the ballot box today, Clinton would take 61 percent of the primary vote, according to the WMUR Granite State Poll, conducted by the University of New Hampshire. Vice President Joe Biden would come in at a distant 7 percent, while other rumored Democratic presidential hopefuls, including New York Gov. Andrew Cuomo and Maryland Gov. Martin O'Malley, wouldn't break 5 percent. One-fifth of voters said they weren't yet sure who they would back.
Nearly nine in 10 New Hampshire Democrats had a favorable opinion of Clinton.
The Republican field was more unsettled. Sen. Marco Rubio (R-Fla.) and Sen. Rand Paul (R-Ky.) tied for first place in the hypothetical primary at 15 percent each, followed closely by New Jersey Gov. Chris Christie and the former vice presidential candidate, Rep. Paul Ryan (R-Wis.), at 11 percent each. Home state Sen. Kelly Ayotte took 5 percent.
Another recent survey, from the Democratic firm Public Policy Polling, found similar Democratic primary results: Clinton led with 68 percent, and Biden followed at just 12 percent. In the GOP field, Paul and Rubio held an edge.
But Clinton would defeat both Republicans, running 52 percent to 38 percent against Rubio and 52 percent to 41 percent against Paul, according to PPP.
The numbers out of New Hampshire reflect the results of most national 2016 polls, which show Clinton a clear Democratic favorite and Republicans far from coalescing behind any candidate.
The WMUR poll surveyed 507 adults in New Hampshire by phone between April 4 and April 9. The PPP poll surveyed 933 voters with automated calls between April 19 and April 21.
BEFORE YOU GO
PHOTO GALLERY
Which Women Might Run In 2016?