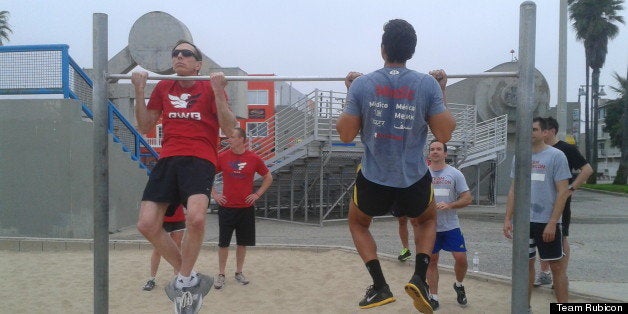 David Petraeus has avoided the spotlight since his extramarital affair with his biographer became public. But the former four-star general has been making steady appearances with veterans trying to reintegrate.
During his first speech since the scandal broke, Petraeus apologized for the affair and vowed to a roomful of 600 people at a University of Southern California dinner to get involved with a number of nonprofits, including Team Rubicon and the Mission Continues, which help veterans get their lives back once they return from war.
"I'm doing so because of the importance of programs that help our veterans identify and then make the most of the opportunities available to them," Petraeus said during his talk.
Since then, Petraeus has made good on his promise and some say it doesn't just feel like a ploy to make over his image.
Before making his speech at USC, Petraeus met with Kaj Larson of the Mission Continues, an organization that provides service fellowships to post-9/11 veterans. Petraeus then ran with the former Navy SEAL down Venice Beach and challenged him to a pull-up contest at an ungodly hour the following morning, according to BuzzFeed.
"He's a strategic guy, and he's a smart guy, and he's certainly trying to rehabilitate his public image -- but I didn't get the sense of being used," Larson told BuzzFeed. "I got the sense he would give his name to veterans' causes whether or not there was a scandal."
To further support the Mission Continues, Petraeus is auctioning off a grueling workout at the National Mall to benefit the organization.
Those who love self-inflicted pain have to pay just $10 to enter for a chance to break a sweat with Petraeus, talk military strategy over coffee and "learn what it takes to serve as Commander of the U.S. forces on foreign soil." The winner will also learn about how the Mission Continues actually makes a difference in the lives of military members.
Petraeus has also used his physical prowess to support Team Rubicon, an organization that dispenses veterans to disaster sites to help devastated communities rebuild.
Petraeus said that recognizing the sacrifice of veterans is something that he, along with the rest of the country, is compelled to do.
"Much has been made of the fact that a very small portion of the population is carrying out this generation's wars," he said during his speech at USC. "Honoring our veterans' service is one small part of a larger effort we must continue to ensure that the so-called civil military gap is as small as it's possible. This is, I believe, a moral imperative."
BEFORE YOU GO
PHOTO GALLERY
David Petraeus Helps Vets Reintegrate