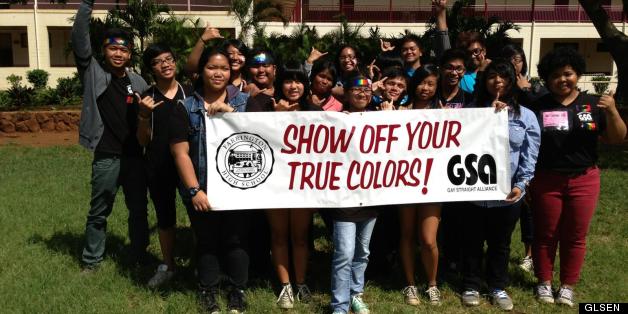 A Hawaiian high school is set to receive the Gay, Lesbian and Straight Education Network's (GLSEN) 2013 "Gay-Straight Alliance (GSA) of the Year" award.
Officials announced that Honolulu's Governor Wallace Rider Farrington High School would receive the honor at GLSEN's Respect Awards, to be held in New York on May 20. The high school was the city's first to have a gay-straight alliance.
"Winning this award -– through an organization I've been with since the beginning –- makes me feel so accomplished," Jonah Saribay, a GSA member of Farrington High School, said in an email statement. "It means a lot, especially since the GSA is an organization I love being in, and have dedicated so much time and effort to help spread equality and acceptance in my school."
On hand to present the award will be transgender rights advocate Janet Mock, a 2001 graduate of Farrington High School.
Dr. Eliza Byard, GLSEN's Executive Director, praised Farrington's GSA members for "making sure that all the students in their community feel safe and are treated with respect."
Check out a slideshow of facts found in GLSEN's 2011 National School Climate Survey below:

ALSO ON HUFFPOST:
PHOTO GALLERY
BEFORE YOU GO
GLSEN'S 2011 National School Climate Survey
PHOTO GALLERY
GLSEN'S 2011 National School Climate Survey