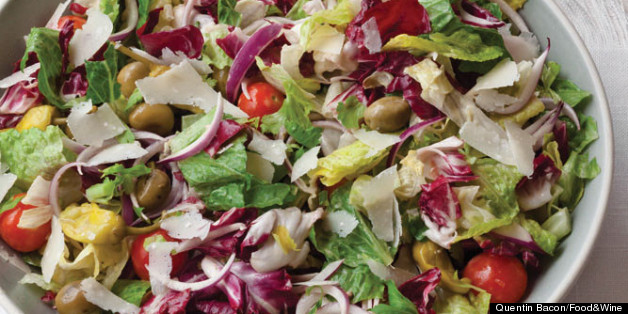 We'll be the first to admit that we don't always make the healthiest of choices when it comes to eating. And we definitely bombard you with our most intense food obsessions like grilled cheese sandwiches, heavy Southern foods, and chocolate, lots of chocolate. It can be a little much, we know. So much so that sometimes we just need a salad -- like stat. Today is one of those days, and this big Italian salad is just the one to do the trick.
With three kinds of greens, olives, peperoncini and Parmigiano-Reggiano, this Italian salad won't let you go hungry. We'd gladly eat it as a main course for lunch any day (but it would definitely have to be followed with a piece of chocolate cake).
Get the Big Italian Salad recipe
Want to read more from HuffPost Taste? Follow us on Twitter, Facebook, Pinterest and Tumblr.
Get more salad recipes.
BEFORE YOU GO