A recent UK art auction serves as yet another friendly reminder to get artworks appraised. Today's found masterpiece, "Landscape with Rainbow" had gone unrecorded for two centuries until a lucky family unknowingly inherited the piece, which sold for $250,000 at auction.
"This is the most expensive painting that I have sold at Bellmans," James Gadd, a painting specialist at the UK auction house, told the BBC.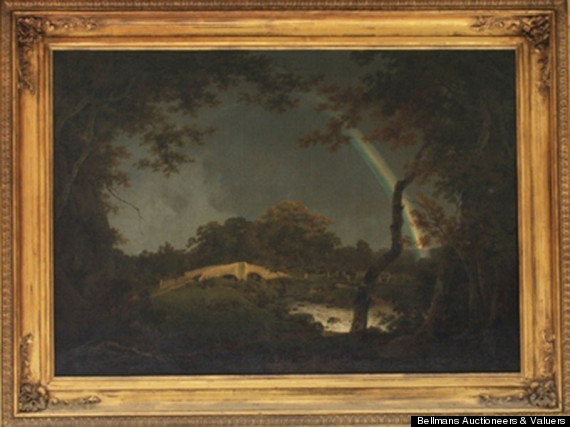 The first version of the landscape hangs at Derby Museum and Art Gallery. For years, scholars believed Wright had painted a second version of the piece, but its whereabouts were unknown. Wright, an 18th century artist who meticulously captured spirit of the Industrial Revolution, referenced this enigmatic second painting in letters written in 1795, according to the BBC.
In January, the UK family got in touch with Bellmans Auctioneers & Valuers to find out more about the provenance of the mysterious painting. Gadd ended up connecting the dots, identifying the inherited painting as the long-lost Wright work. ArtDaily featured a detailed comparison of the two similar Wright landscapes, noting that the artist is "a pioneer in depicting luminescence."
We've said it once and we'll say it again: You never know when a dusty, old inherited artwork is actually the lost twin of an important 18th century landscape, do you?
See other dramatic art finds in the slideshow below:
PHOTO GALLERY
BEFORE YOU GO
The Most Dramatic Art Finds Of 2012
PHOTO GALLERY
The Most Dramatic Art Finds Of 2012