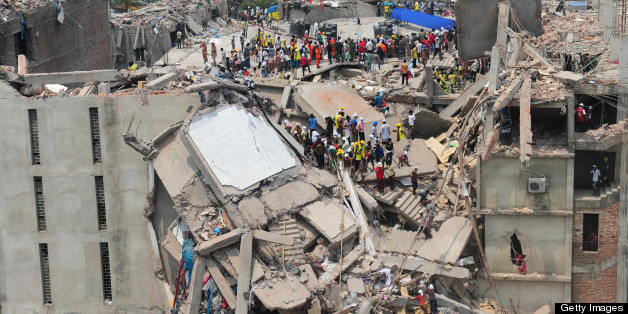 If companies won't take responsibility for the hazardous conditions that resulted in the deadly collapse of a Bangladeshi factory, then shoppers should, according to one activist.
Victoria Butler-Cole of Kent, England, is asking her fellow consumers to pay a voluntary "T-shirt tax" by making a donation that estimates the difference in cost between ethically-made clothes and those made in cheap textile producers. The donations go to ActionAid, an organization that plans to distribute the money to the families of workers killed in the factory collapse and to those who survived.
"We bought the clothes," Butler-Cole wrote on her Just Giving page. "We benefited from their cheap prices at the expense of the workers and their families."
In the wake of the Bangladesh disaster that killed more than 380 people, many activists are blaming Western retailers for prioritizing cost above safe conditions for workers. Many major retailers continue to refuse to pay for strict nationwide factory inspections, according to Reuters.
Last week, a group of non-governmental organizations accused "bargain basement clothing" of leading directly to the factory collapse and other similar disasters.
In addition, protesters demonstrated in front of British low-price retailer Primark last week, according to the Guardian. Some also are circulating a petition asking clothing brands like Matalan and Mango, which used suppliers that worked inside the collapsed building, to compensate the victims.
It's too early to tell if Butler-Cole's T-shirt tax campaign will catch on, but similar efforts have inspired companies to change their business practices in the past. In the 1990s, a global boycott pushed Nike to become more transparent about conditions in its factories.
(Hat tip: The Guardian)
ALSO ON HUFFPOST:
PHOTO GALLERY
BEFORE YOU GO
Bangladesh Factory Collapse (UPDATED)
PHOTO GALLERY
Bangladesh Factory Collapse (UPDATED)