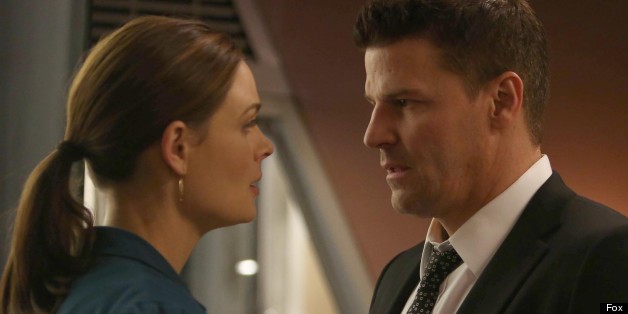 Note: Do not read on if you have not yet seen the Season 8 finale of "Bones."
In the Season 8 finale, "Bones" fans were put through an emotional roller coaster ride after Brennan (Emily Deschanel) finally proposed to Booth (David Boreanaz) and then they didn't get their happily ever after. Pelant (Andrew Leeds) returned and threatened to take out five random strangers if Booth didn't call off the engagement. Even worse, he wasn't allowed to tell Brennan why.
"Bones" Stephen Nathan opened up about the finale with multiple news outlets and sort of, kind of reassured fans that Booth and Brennan will be OK. "It's going to be a big setback for Brennan and a big setback for the relationship when we open Season 9," Nathan told TV Guide. "She opened herself up and was somehow emotionally betrayed. And there's been no satisfactory reason given."
Nathan added that Booth and Brennan's relationship is one "that we've all grown to love and admire. There will be ups and downs as there has to be. I don't think an audience really wants to see just a happy couple that isn't going through anything. The damage has been done, but the damage can be repaired," he told TV Guide.
Though there are certainly challenges ahead in Season 9, Nathan told TVLine that "the reality is [Brennan] couldn't imagine living without Booth," despite how much he hurt her.
"Booth knows the pain that he's caused her, [and it's] the last thing he would ever want to do to the woman he loves," Nathan told Entertainment Weekly. "He will make this right, that's all I can say. When? I can't say. But I know he will and we know how."
Will Booth actually kill Pelant? "Booth knows what it will take to right his relationship with Brennan and to right the injustices that have been rained down on him," Nathan told TV Guide. "And Booth usually gets his man ... That's what it seems like now. Whether that will eventually be the case, that's something we have to wait and see. Booth and Brennan usually get their man and they have an extremely novel way of doing that. That's already in the works [for next season]."
Nathan also told TVLine: "Pelant will not live forever."
PHOTO GALLERY
TV Couples Who Make Us Believe In Love
BEFORE YOU GO