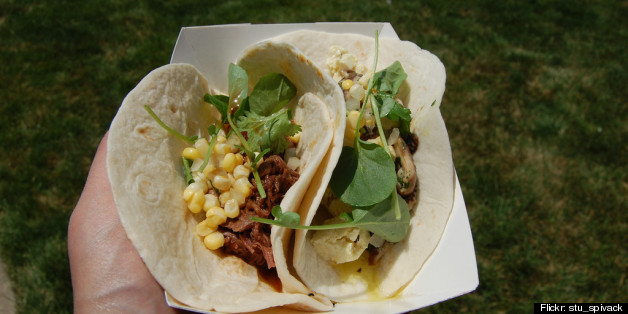 This post originally appeared in the April 30, 2013 edition of Model D.

In the shadow of the Ambassador Bridge, Southwest Detroit's Cinco de Mayo celebrations offer an excellent excuse to celebrate your Mexican heritage -- real or imagined.
Although the official festivities and scenery evolve each year, the constant draws are the outstanding tacos, menudo, tortas, tamales, chiles rellenos, flautas, fajitas, and enchiladas available throughout Southwest Detroit.
Prepare yourself: The usually outstanding horchata always tastes a little sweeter and the already tasty tacos are a little more flavorsome on May 5.
In this neighborhood of delectable edibles, tacos reign supreme. Of course, Southwest Detroit's tacos come in an array of sizes, types, and fillings, but this variety makes the area more of a destination. Whether you're hankering for a one-bite, two-hand, or three-plate affair stuffed with pork, chicken, beef, shrimp, tongue, chorizo, fish, vegetables or any number of specialties, Southwest Detroit has you covered.
With a number of producers in the neighborhood -- including Hacienda, La Michoacana, and La Jaliscience -- the tortillas are always fresh, puffy, and flakey, which accentuates the flavor of the usual garnishes -- cilantro, onions, and a squeeze of lime.
In addition to Southwest Detroit staples Armando's Mexican Restaurant, El Barzon, El Zocalo, Las Brisas, Los Altos Restaurant, Los Corrales, Los Galanes, Mexican Village Restaurant, Taqueria El Naciemento, and Taqueria Mi Pueblo, a few taquerias and Mexican restaurants offer especially delicious complements to your Cinco De Mayo celebration. The tacos below are best paired with Mexican beer, margaritas, and/or tequila.
The following is a selection of excerpted Mexican restaurant, taqueria, and taco truck listings from "Belle Isle to 8 Mile: An Insiders Guide to Detroit"."
Señor López Mexican Restaurant -- The chiles rellenos, alone, are worth the trip. These culinary masterpieces are lightly battered and fried poblano peppers hand-stuffed with cheese and topped with unmatched ranchera sauce. The chiles rellenos, however, are not your only path to Mexican nirvana: the Cochinita Pibil (marinated pork), Chiles En Nogada (stewed poblano peppers over rice), and delicate yet straightforward tacos loaded with fresh-cut cilantro and onions and your choice of meat are all outstanding. Open since 2002, Señor López quickly built a strong following, so getting one of the handful of tables can be difficult on some days. Carry out isn't a bad option, however, as the atmosphere is unremarkable, and Dingeman Park is a few blocks up. 7146 Michigan Ave., 313-551-0685.
Southwest Detroit Taco Trucks & Grills
-- Southwest Detroit is home to a wide array of tasty taco trucks and outdoor grills slinging Mexican street food. In general, at either trucks or grills (which sometimes include indoor seating) food is cheap, quick, and made from a variety of meats, ingredients are fresh, and beverage selection is limited to Coke products and water, with the occasional Jarritos. Food and service are the focus, while the typical parking lot ambiance takes a backseat. April to October is the surest time to catch the widest selection, but several joints are open year-round. Hours vary by eatery, but you're probably assured to find a truck between 11 a.m. to 7 p.m. Most are open much later. You'll find most of the taco trucks and grills between Junction and Lawndale, on or around Vernor, Dix, or Springwells. All locations are cash-only, and vegetarian options exist, but aren't the strength of most vendors. These are a few of our favorite spots:
El Primo -- A smaller selection of meat than others, but lightning fast, generously portioned tacos for1.25. Very popular. Dix St. at Central Ave.
El Taco Veloz -- The early bird's taco truck. Open at 8 a.m., seven days a week, until as late as 11 p.m. on weekends. Excellent grilled onion or jalapeño, anyone? 6170 Toledo St.
El Taquito -- Featuring shrimp quesadillas, and affordable as they come. The al pastor tacos are outstanding. Seven days a week. 6060 W. Vernor Hwy.
La Mexicana Supermercado -- An outdoor grill connected to a grocery store. Serves delectable tacos, including pollo, carne asada, and lengua. Open until the cows come home, year-round. 7934 W. Vernor Hwy.
Loncheria el Parian --Tacos for1 and a huge variety. The Springwells location has an authentic al pastor rotating spit. The charming Dix cart is reminiscent of a carnival. Both offer delicious tortas. Open until 11 p.m. on Friday and Saturday. Burgers and hotdogs available. Two trucks: Dix St. at W. Vernor Hwy., and Springwells St. at I-75.
Pollo los Gallos -- Outdoor grill famed for roast chicken,1.25 tacos, and meals of much, much more. Open seven days, 10 a.m. – 9 p.m. 7170 Dix St.
Tacos el Toro -- Hearty portions cooked spot-on, a full selection of meats, carrot and radish side, and a choice of red and green salsas. Closed Tuesday. Two trucks: 2142 Springwells St. and Michigan Ave. at Central Ave. or McGraw St. and Addison St.
Taqueria El Rey -- Beyond the unpolished facade and aromatic siren song of grilled chicken, the unassuming Taqueria El Rey offers some of the city's finest Mexican food. While the prosaic atmosphere might remind you of an orthodontist's office or dive bar, the food might remind you of the Mexican food served behind St. Peter. Although the supporting cast is outstanding, the belle of ball on this menu is the grilled chicken. Cooked right outside at the adjoining walk-up taco stand, the excellent dry rub, smoky flavor, and perfectly cooked, tender texture of these slabs of heaven will leave you ordering seconds. Not a bird nerd? Look no further than the outstanding tostadas de camaron, hamburguesa de camaron, burrito estilo california, or torta de lomo adobado. If you need to take the edge off, try one of the renowned margaritas originales from the full bar. 4730 W. Vernor, 313-357-3094.
Taqueria Lupita's -- In a neighborhood flush with tasty Mexican options, and on a street that's one of the epicenters of the action, it can be hard for a taqueria to distinguish itself, but if you're willing to pass on the margarita, Lupita's does it with a bevy of inordinately inexpensive real-deal authentic Mexican street food. Highlights at this divey self-proclaimed "house of the original Mexican taco" include hearty pozole soup and chorizo, carnitas, and especially al pastor tacos, which are legendary in these parts. Don't be afraid to get adventurous here--that lengua taco won't eat itself. 3443 Bagley St., 313-843-1105.
These entries were originally written for "Belle Isle to 8 Mile" by contributors Cassie Basler, Ryan Healy, Anna Hipsman-Springer, Andy Linn, Emily Linn, Robbie Linn, and Glen Morren.

"Belle Isle to 8 Mile: An Insider's Guide to Detroit" includes more than 1,000 Detroit, Hamtramck, and Highland Park attractions, sites, institutions, events, restaurants, bars, shops, and curiosities from the essential to the obscure described over 448 pages. The book is available at City Bird and Nest in Midtown and here, as well as at other online and brick-and-mortar retailers.
Flickr photo by stu_spivack.

BEFORE YOU GO
PHOTO GALLERY
Healthier Mexican Takeout