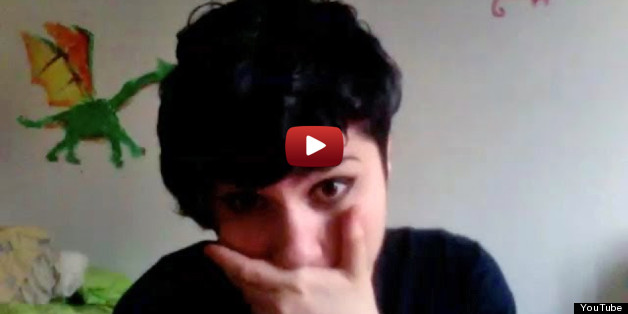 Eva and Franco Mattes are known for creating artwork so troubling it borders on cruel. In their previous piece "No Fun," Franco pretends to hang himself on Chat Roulette and records the reactions of strangers. Some giggle, some stare horrified, and the artifice of the hanging -- that it is an "art project" -- is never revealed. However, the Italian artists' current exhibition at Carroll/Fletcher in London may be their most disturbing yet.
For "Emily's Video," Eva and Franco invited volunteers to watch what they called "the worst video ever," combined of clips from the 'Dark Net.' The "Dark Net" or "Deep Web," which, according to The Guardian is around 500 times larger than the commonly defined web, and far more disturbing. The pair issued a warning to participants prior to their viewing explaining: "NOTE: Emily's Video is extremely graphic and extremely violent. EXTREMELY. We don't recommend it to anybody."
What remains are the reactions of the viewers, recorded on webcams, uploaded to YouTube, and spliced together into one stomach churning 15-minute film. The volunteers become a screen, mirroring the horrors of the original footage as we are left to imagine what could possibly make them squirm and recoil. In an email to the Huffington Post, Franco explained, "We like shooting with webcams, they're considered personal cameras to film oneself so people forget easily they're being filmed, and they behave normally."
Marina Galperina at AnimalNY wrote after watching the film, "I had the images — snow, bare branches, blood, flesh, maniacal grins, blurred abstract manias — burned into my brain for weeks."
All parties involved are culpable at the close of Eva and Franco's experiment. The artists, for exerting others to scarring images; the volunteers for initially being seduced by the offer of such violence; and us, the viewers, who eventually rack our brains for the darkest possible nightmares while contemplating what could possibly make up the original film. The shadiest underbellies of the internet and our imaginations are laid bare through "Emily's Video." And, worst still, we all, in a way, asked for it.
"You look for an exit with these kind of videos, you want to be able to leave and forget. You tell yourself that it's not real, that it's all staged, even if deep inside you fear it's not," Franco wrote in an email.
See clips from "Emily's Video" in the slideshow below and let us know your thoughts on this controversial film in the comments.
Eva and Franco Mattes' "Emily's Video" will run until May 11 at Caroll/Fletcher Gallery in London.
PHOTO GALLERY
Emily's Video