Saturday actor-author-director James Franco was honored with the HBO Latin America Ally Award for his "unwavering support of the LGBT community" at the 15th annual Miami Gay and Lesbian Film Festival.
"I have a lot of different connections to the LGBT community and I have a lot of aesthetic or artistic connections or reasons I am interested in queer cinema," he told South Florida Gay News. "'My Own Private Idaho' was a big influence on me in many ways."
In addition to studying queer cinema at New York University, Franco, who also blogs for The Huffington Post, played the boyfriend of a gay activist in "Milk."
Most recently, he starred in, produced and directed "Interior. Leather Bar.," a recreation of the deleted sexually explicit footage from the controversial 1980 gay-themed film "Cruising." It screened Sunday night at MGLFF.
"For a long time [playing gay characters] was seen as something that was harmful to your career," he told South Florida Gay News. "I find that it hasn't hurt me at all, and even if it did hurt me, it wouldn't deter me from doing the kinds of projects that I want to do."
While in town for the film festival, Franco tweeted poolside selfies of himself in a neon South Beach cap as well as a S&M-themed birthday cake with 'James' written in icing next to a strap-on, mouth gag, anal beads, and a leather whip -- all made of a fondant-looking substance.
UPDATE: The cake was made by Miami bakers Caked By Two.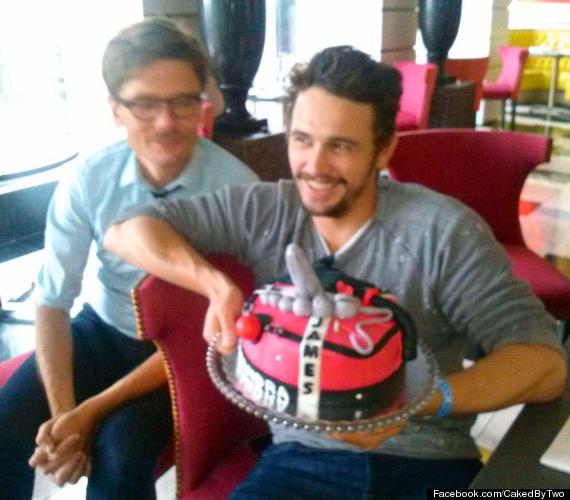 Click below for images of Franco at the film festival and poolside in South Beach:

PHOTO GALLERY
James Franco in Miami
BEFORE YOU GO