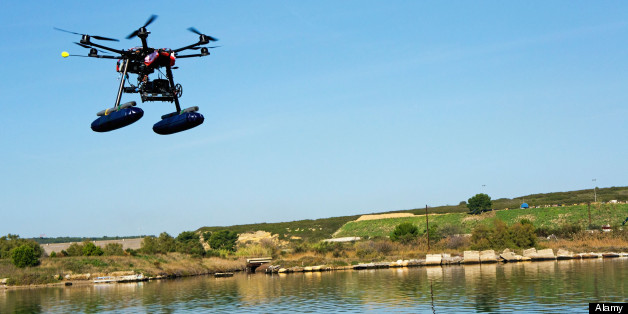 SACRAMENTO -- California lawmakers on Tuesday continued to move forward with efforts to place privacy restrictions on the civilian use of unmanned aerial systems before the federal government acts to integrate drones into the national airspace.
"Whether we like drone technology or not, the fact of the matter is it's here," said Sen. Alex Padilla, D-Pacoima, as he presented his proposed privacy-regulation proposal to the Senate Public Safety Committee.
The panel approved SB 15, which would subject operators of unmanned aircraft to existing civil and criminal penalties that apply to invasion of privacy and eavesdropping, require law enforcement agencies to obtain a search warrant before using an unmanned system to obtain evidence, and prohibit any civilian drone from being equipped with a weapon.
A similar privacy bill was approved last week in the Assembly Public Safety Committee.
Padilla said California must act now to put policies in place because Congress and President Barack Obama have instructed the Federal Aviation Administration to begin allowing unmanned systems into the airspace by 2015, and as many as 10,000 commercial drones are projected to be in the air by 2020.
John Villasenor, a UCLA professor and fellow in the Center for Technology Innovation at the Brookings Institution, testified that unmanned systems "can be employed in an endless variety of civil and commercial applications, the overwhelming number of which are beneficial."
Experts cite such potential uses as the monitoring of agricultural crops, geologic and marine research, and the inspection of electrical transmission lines and oil pipelines.
The potential for commercial uses is such that an aeronautics industry group last month estimated that the unmanned systems industry could generate $82 billion in U.S. economic activity within the first decade after the FAA broadly authorizes their use.
The FAA is in the process of selecting six testing and development sites nationwide. Entities from 37 states are competing to become one of those sites. One of the California applications, which includes partnerships with airports and businesses around the state, is being led by Ventura County.
Valerie Small Navarro of the American Civil Liberties Union said that while Padilla's bill is a start toward ensuring Californians' privacy, "some significant issues remain on the table."
She argued that a "technology that does not give notice of its presence, that is silent," merits heightened regulations to protect the right of privacy guaranteed in the California Constitution. ___
BEFORE YOU GO