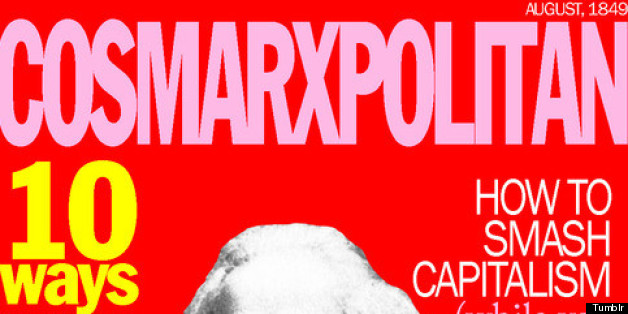 As anyone who has visited a newsstand knows, Cosmopolitan magazine has a distinct way of writing cover lines. A glance at the May 2013 issue gives a nice taste:
"ORGASM GUARANTEED!"
"THE CRAZY LIE I TOLD TO GET A BOYFRIEND"
April 2013, too:
"HOW TO TALK DIRTY... Without Sounding Ridiculous!"
"The Sexiest Thing You Can Do On A Date"
"THE MONEY, THE MAN, THE BABY... 'Get What You Want'"
The creators of the Tumblr Cosmarxpolitan imagined what Cosmo covers might look like if the editors were Marxists. Some of the results are pretty fun.
KARL IN THE BEDROOM: 'FROM EACH ACCORDING TO HIS ABILITY, TO EACH ACCORDING TO HER NEEDS'
STALIN STRIPS DOWN we bet you've never seen him like THIS!
(Stalin's face is Photoshopped onto the body of a male model for that one.)
SEX TIPS so divine, he'll call you the opiate of his masses
your va-jay-jay called! it wants to talk about anarcho-syndicalism
At times it's not clear whether the target of the satire is Cosmo, Soviet propaganda or both:
LOOK FAB DURING FAMINE fashion tips from the great leap forward
and it's certainly no Hey Girl, but the creators get points for creativity. Click over to Cosmarxpolitan to see the covers, and let us know in the comments what you think of the lady mag gone Marxist.

BEFORE YOU GO
PHOTO GALLERY
Controversial Magazine Covers