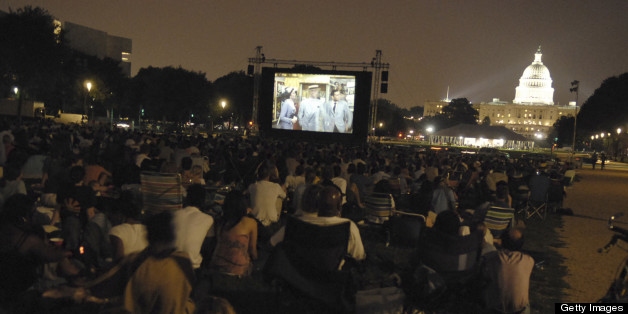 WASHINGTON -- If you're not too happy with Netflix losing 2,000 movies and are over things like awesome D.C. theaters, you only have a few more weeks until the D.C. outdoor movie season begins.
Last year's outdoor movies began on May 23. This year we only have to wait until Friday, May 17 for the Rosslyn Outdoor Film Festival.
Some of the most popular fests, Screen on the Green being our favorite, have not announced their lineups. (UPDATE: Screen on the Green has now revealed its 2013 schedule.)
All of the screenings are free and begin at sundown.
Capital Riverfront Outdoor Movies: Thursdays, May 30 — Aug. 8
This series would have been laughed at 10 years ago. Hell, this series couldn't exist 10 years ago. Comic books have become mainstream movies. This series, DC Vs. Marvel Comics, will bring Captain America, Batman, Iron Man, The Hulk, Robin, Green Lantern and more to the outdoor screen.
Crystal Screen Outdoor Film Festival: Mondays, June 3 — Aug. 26
Crystal City is going big this summer. Their Blockbusters series has "E.T.," "Forrest Gump," "Jaws" and other films that people will be shocked to hear you've never seen.
Movies on the Screen on Rockville Town Square: Wednesdays, June 12 — Aug. 21
This series is a little odd. Other than the Tom Hanks favorite "Big," it's a collection of successful recent releases. "The Loraxx" and "Wreck It Ralph" are for the kids, "The Avengers" and "The Dark Knight Rises" are for the superhero fans and "Skyfall" is for the family that enjoys watching James Bond get erotically tortured by Javier Bardem.
National Harbor Movies on the Potomac: Sundays, May 26 — Sep. 1
Family Movie Sundays isn't just for the little kids or pre-teens. "Brave" is for the entire family, "Remember The Titans" is for the sports fan that needs inspiring and "Ghostbusters" is for everyone still breathing. The series is broken up into three themes: animation, 80's classics and sports films. Movies begin 20 minutes after sunset.
NoMa Summer Screen: 7 p.m. Wednesdays, May 22 — Aug. 21:
The NoMa series theme is Outlaw Heroes. From action flicks ("Indiana Jones and the Last Crusade," "The Italian Job") to family friendly comedies ("The Princess Bride," "Goonies"), the loose theme will appeal to a wide swath of D.C. residents. Our favorite pick in this series is Wes Anderson's recent classic "Moonrise Kingdom." The story of two pre-teen outcasts in love and on the run on a small island is the perfect date movie.
Rosslyn Outdoor Film Festival: Fridays, May 17 — Aug. 30
This year's fest has been extended one month. We're fans of that. The theme, "Summer School," will allow for people from their 20's to 70's to relive their glory days. From "American Graffiti" to "Easy A," stories of fast cars, young love and bad grades will be screened just outside D.C.
Alexandria 10th Annual Outdoor Film Festival: Dates and films to be announced
Bethesda Outdoor Movies: July 23 - 27, films to be announced
Columbia's Lakefront Summer Festival Movies: Sundays at dusk, dates and films to be announced
Comcast Outdoor Film Festival - Rockville: Dates and films to be announced
Movies Under the Stars at Pinn Community Center - Fairfax: Begins Friday, May 10, films to be announced
Screen on the Green: Dates and films to be announced
U Street Movie Series: Dates and films to be announced
We'll be updating the festival listings as soon as they announce their films and dates.
BEFORE YOU GO
PHOTO GALLERY
Summer Movie Preview 2013