When Elle Zober's husband dumped her for a younger woman, she took revenge with perhaps the most vindictive "For Sale" sign ever.
"In the divorce I wouldn't be able to stay in the home and pay for it, so the decision was made that I would sell the house," she said on "Karma's A B*tch!," a new TV series debuting May 2 on Investigation Discovery. "So I was always going to make a 'For Sale' sign."
Most people, even those in Zober's state, would have settled for writing "For Sale," but the Beaverton, Ore., resident went a few steps further.
Her sign read: "Husband left us for a 22 year old" followed by "House for sale by scorned, slightly bitter, newly single owner."
The bottom corner said "Adulterers need not apply."
Despite airing her dirty laundry out on the lawn, Zober was able to find a buyer for her three-bedroom home.
Truth be told: Her unusual sign only got posted after she got her ex-husband's approval.
These days, Zober is doing better and even turned the experience into a blog that's read by 15,000 people a month.
Now, she's contemplating a big change in her life: Getting back in the dating scene, and getting on with her life.
Zober says she does not hold harsh feelings for her ex, a sentiment not shared by her mom, Basha Hope.
"Revenge is a dish best served cold. And I think he's going to find that life hands him quite a plate," Hope said. "He's a bastard, I also think he's a coward. A real man wouldn't have done this to his family."
CORRECTION: An earlier version of the story incorrectly quoted Zober as saying the quote that began, "Revenge is a dish best served cold." It was her mother who said that.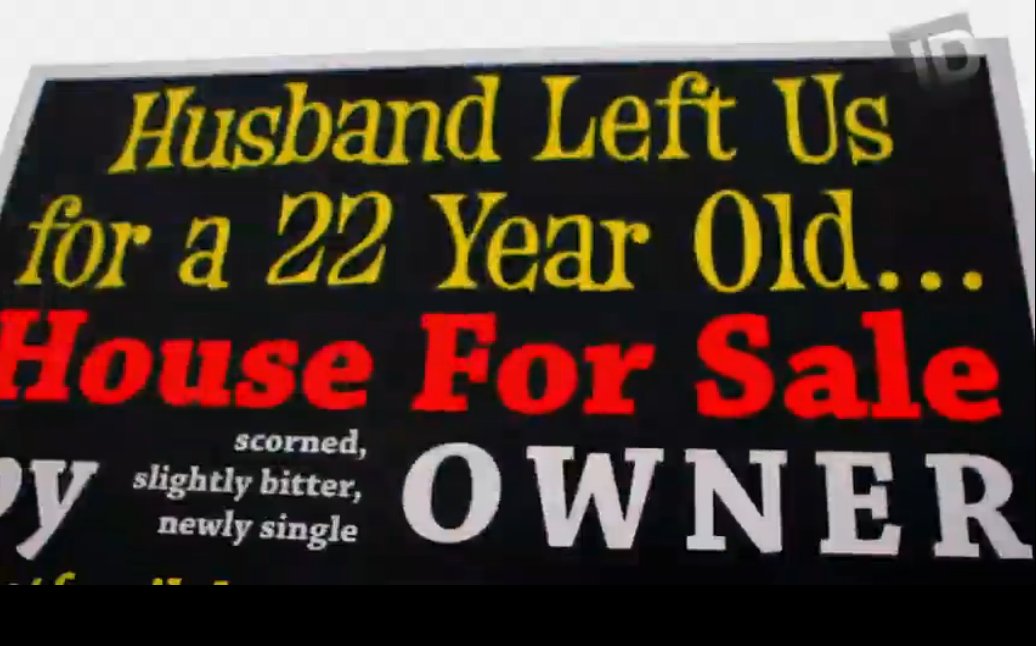 BEFORE YOU GO
PHOTO GALLERY
10 Weird Divorce Stories