Your prom pictures aren't the first thing you'd think of as inspiration for your wedding photos, but that was the case for groom Austin White, who tied the knot on Saturday.
White and groomsmen Andy Toth and Jon Billett recreated a photo they took of themselves at prom in 2000, and posted both photos side-by-side on Reddit Monday.
White told HuffPost Weddings via email that Billett remembered that they looked like "tools" in their prom photo, so they decided to recreate it to make fun of themselves. He's thrilled that the photo has generated almost 500 comments and half a million views on Reddit so far.
"Andy doesn't own a computer so he has no idea it's out there. Me and Jon, the best man, and the other groomsman have been laughing about all the comments -- it's fantastic. Basically a [year's] worth of insults to dish out to each other," White said.
Check out the before- and after-photo below (White is on the left, Toth is in the middle and Billett is on the right):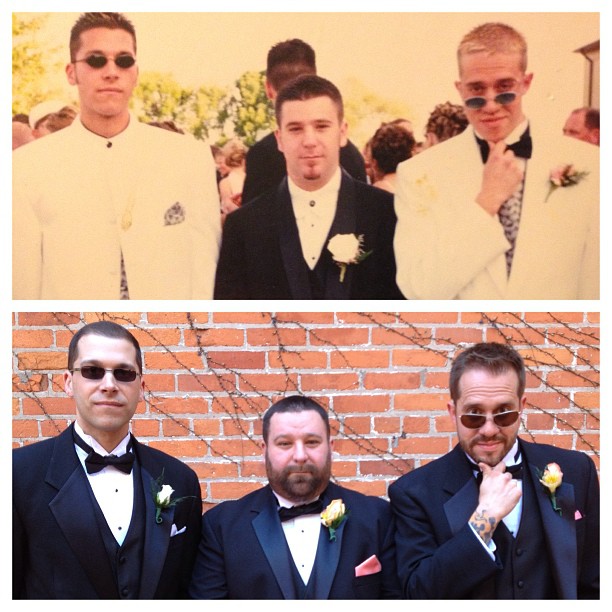 Last year, a newlywed couple took a similar photo, but with a much sweeter twist -- they recreated a photo of themselves awkwardly dancing together in sixth grade.
Click through the slideshow below to see funny wedding photobombs.
PHOTO GALLERY
Wedding Photobombs
Keep in touch! Check out HuffPost Weddings on Facebook, Twitter and Pinterest.
BEFORE YOU GO