A dog named Kali is making a miraculous recovery after half her body was severely burned in a fire four months ago.
On the morning of December 30, strong winds knocked over a heat lamp in a shed near her owner's Georgia home and, according to AccessNorthGa.com, Kali was trapped inside.
Story continues after photo.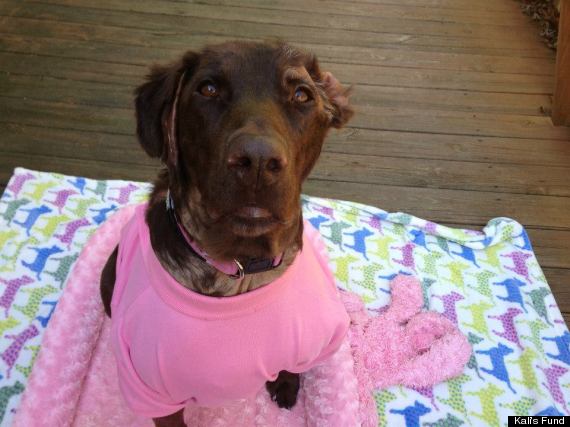 The dog's loud barking alerted her owner to the fire just 20 feet from the residence, the Gainesville Times reported -- and allowed the flames to be contained before they spread to the house. However, Kali suffered deep tissue burns on over 50 percent of her body.
Kali's owner was unable to afford the cost of treatment and turned her over to the vet techs at Clermont Veterinary Hospital. Today, the 4-year-old chocolate lab is almost completely healed thanks to their care and support.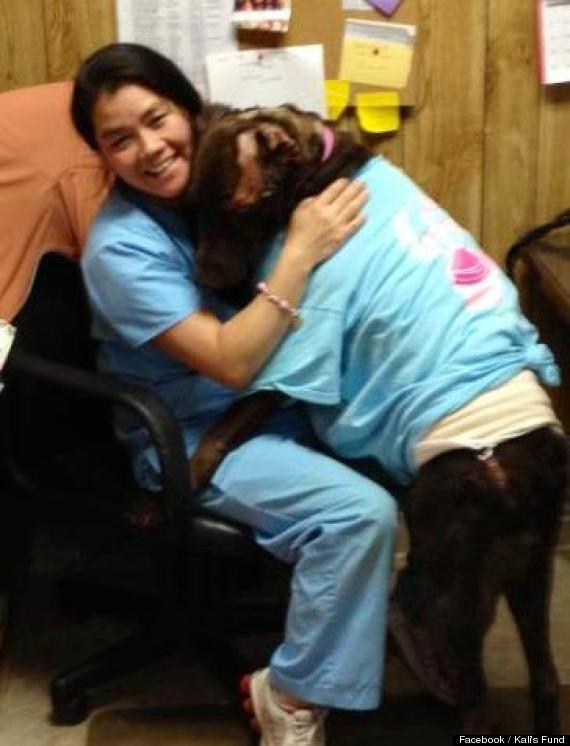 "She knew we were trying to help," Kimberly Hayes, Kali's primary care-taker, told AccessNorthGa.com, "and her desire to live is what helped with the healing process."
The second- and third-degree burns were extreme and required expert attention. After initial treatment at the vet hospital, Kali was taken to see the doctors at the University of Georgia's veterinary school. "They said they'd never seen burns that involved and just that horrific," Hayes told the Gainesville Times. "They said they'll probably never see a case like this again."
Outside of the operating room, Hayes and the Clermont vet techs kept constant watch over Kali's wounds to make sure they were free of infection, and they also worked to raise the money for Kali's extensive treatments.
The team started a Facebook page called Kali's Fund in January, according to the Times, and Hayes told the paper that they had "people all over, pouring out their prayers ... people in Colorado, New England, Connecticut, New Jersey, France, Texas. Students giving up their ice cream money so we could collect money for her fund."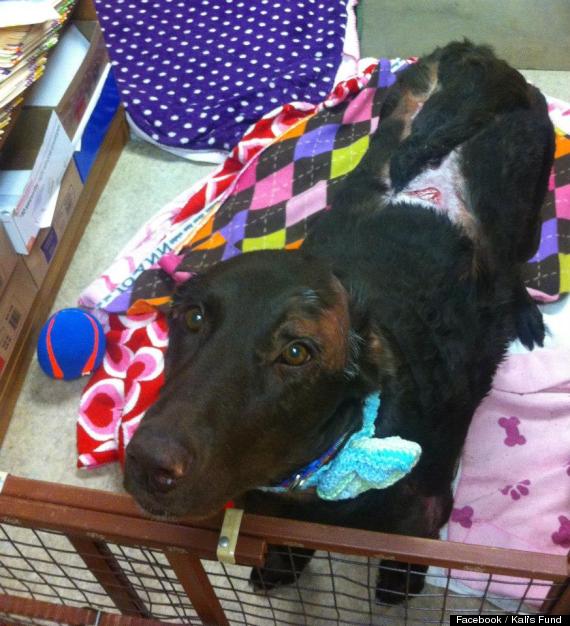 Now, only two small patches remain of Kali's horrific burns, and she's well on her way to a full recovery.
Hayes said to the paper, "No matter how bad things may be for us, whether it's an accident, whatever is going on in our lives ... she's taught me to love and to trust."
BEFORE YOU GO
PHOTO GALLERY
Dog Survives 120ft Fall Off Cliff