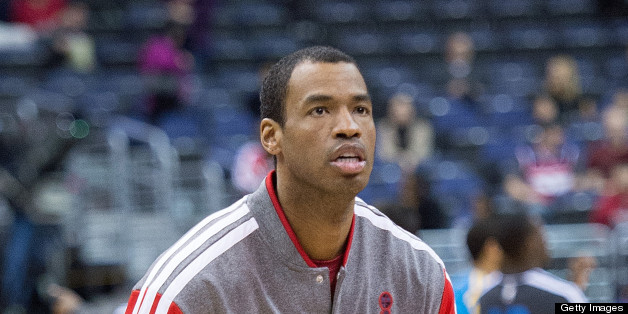 NEW YORK -- At an outdoor basketball court in Greenwich Village this week, Peyton Bell, 66, was talking about Jason Collins.
"I support him," he said emphatically. "It's good for a male to come out."
Bell, who played basketball in high school and college, and now mostly comes by the court to watch, said he thought it took courage for Collins to reveal his sexual orientation. "I should know," he said. "My son is transgender. It's rough being transgender."
"But being straight or machismo ain't no bargain either," he added.
A day after NBA player Collins startled the sports world with the public announcement that he's gay, amateur basketball players in New York and elsewhere expressed support or indifference, or a mixture of both.
Chris Souza, 19, was standing on the sidelines at the New York court, waiting for his turn to play. He said he didn't think the news was such a big deal, mainly because he doesn't think Collins is a newsworthy player.
"He's a scrub," he said. "He isn't a major player. I'm pretty sure if it was a big player like Kobe or Lebron, it would be a huge thing."
Even then, Souza wouldn't judge. "If they are, that wouldn't change the way I see you as a man."
Kye Allums, a former player at George Washington University who made history in 2010 by becoming the first openly transgender man to play on a Division 1 basketball team, said on the phone that he was excited by the announcement, but also ambivalent about all the attention and hype that it's received.
"Sports is about sports, it's not about who you have sex with," he said.
Allums has now become a full-time Lesbian, Gay, Bisexual, Transgender advocate, but that wasn't his goal when he first came out to his teammates and friends. Watching Collins discuss his decision on the news, he recognized parallels to his own journey.
"He didn't intend to be the first. He just happened to be that person that was raising hand, and for me, when I came out, I guess I just felt like I was pissed off and that's why I did it. The only reason I came out is because six people in my close circle were afraid to be who they were. A couple were lesbians, a couple were scared to switch majors because of what their parents thought. I was just irritated with the fact that people were not living their lives because of other people."
Shane Windmeyer, the director of the LGBT advocacy group Campus Pride, which focuses in part on college athletics, said that the reactions of amateur basketball players could help determine the future of LGBT athletes in sports. "The reaction from the broader sports community is ultimately the test that will decide whether or not there will be more professional sports players who do come out."

Back on the blacktop, an old-timer known on the court as Escobar exclaimed that he'd never play with Collins. Then he cracked a smile.
"The only reason I can't play with the guy is because I'm not as good as him."
Escobar said he's sure that in his decades of playing street basketball in New York he has shared the court with many gay people. He couldn't think of any male players who identified as gay, but he also couldn't think of many players who talked much about their personal lives. "It's about playing ball out here," he said. "And when it gets a little warmer we get a crowd out here and it's about showing off."
"We'll rail on each other for being a lousy ball player or messing up," he said, acknowledging that some players might use a man's sexuality as fodder for trash talk on the court. "Some guys will use whatever they can. The best way to respond is to beat them."