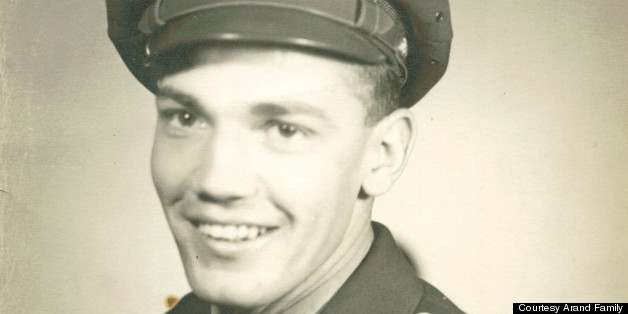 More than six decades after Robert G. Arand's wife donated his military bomber jacket, the sentimental piece of clothing found its way back to the 90-year-old's closet, thanks to a good Samaritan.
While perusing the racks at a Goodwill shop in Washington, D.C., John Dodds, assistant general counsel for the Air Force and a military history expert, came across a brown leather bomber jacket and immediately knew it was a relic, Stars and Stripes reports. The lieutenant bars were still intact on the shoulders and it had Arand's name tag sewn on the front.
Dodds paid $17 for the jacket and tracked the WWII pilot down within 24 hours.
"I just could not believe it," Arand, who enlisted in 1942 as an aviation cadet and retired in 1982 as a major, told the news outlet of learning that his jacket had been recovered. "It's all working out pretty well."
But Arand is just one of a number of vets who offer hope to those who have lost their beloved gear.
Nearly 70 years after William Kadar's Army-issued duffel bag went missing, it showed up at his Merrillville, Ind., home last January, according to the Associated Press.
Also a WWII vet, Kadar had served in France and last saw the bag in November 1944, just before the Germans captured him.
A French teen had found the duffel, with Kadar's name and serial number still stenciled on it, in his grandfather's house and returned it with a note.
WGNTV in Chicago was with Kadar when he opened the bag and the grateful vet simply responded, "Well, I finally got it."

BEFORE YOU GO
PHOTO GALLERY
Man Reunites WWII Vet, 90, With Bomber Jacket