Lindsay Lohan might be headed to lockdown rehab for the next three months, but that doesn't mean she doesn't want to look good behind closed doors.
Apparently, Lohan has packed 270 outfits for her 90-day rehab stint, according to Us Weekly. The 26-year-old starlet appears in a photo taken in her apartment surrounded by mounds of clothes. She uploaded the shot to Instagram captioned with "90 days and 270 looks."
It's clear Lohan has fashion on the brain as she gets ready to head off to treatment on May 2. But this shouldn't come as much of a surprise since each of her court room appearances has doubled as a fashion show.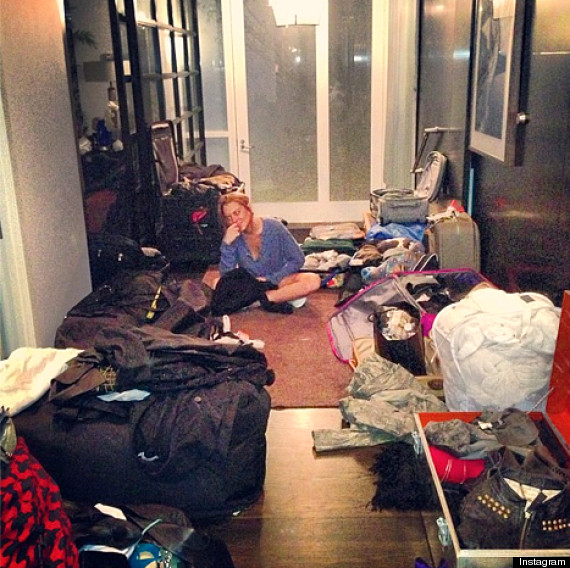 Looking good isn't the only job the "Canyons" actress will have during recovery. Lohan is slated to write about her rehab experience in a blog for celebrity gossip site Celebuzz, according to the New York Post's Page Six.
Her entries reportedly wouldn't be published until August, but it is supposed to be a jumping off point for Lohan to have her own page about art, fashion, music and movies, Page Six notes. The Kardashians currently have their own Celebuzz blogs, as does Holly Madison.
And she could have loads to write about it. TMZ reports Lohan's time in rehab may not be smooth sailing because she might not be able to smoke. Seafield Center, located in Westhampton Beach, N.Y., does not allow smoking -- and everyone knows the former "Mean Girls" star has a penchant for cigarettes.
Although she is allegedly set to head to Seafield on Thursday, Lohan now has her eye on Morningside Recovery in Newport Beach, Calif., as a last-ditch effort to keep lighting up, according to TMZ.

BEFORE YOU GO
PHOTO GALLERY
Celebrity Court Room Fashions