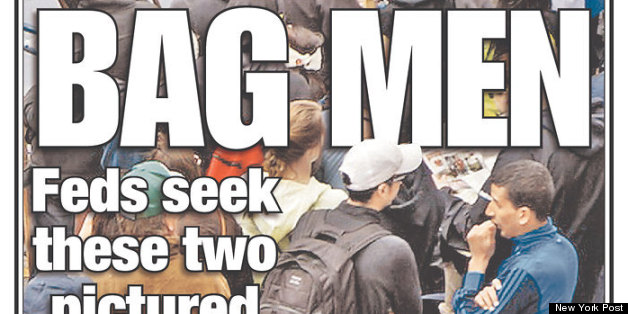 The father of Saleh Barhoum, one of the men pictured on The New York Post's "Bag Men" front page, is considering legal action against the newspaper, The Washington Post's Erik Wemple reported Wednesday.
Barhoum was one of two innocent men splashed on the cover of The New York Post after the Boston Marathon bombings, with the headline "BAG MEN: Feds seek these two pictured at Boston Marathon."
El Houssein Barhoum, the man's father, told Wemple that he is now talking to lawyers about taking legal action against the Post. Wemple — who had already voiced his support for suing the Post — reported that Barhoum said his son has been unable to sleep and sometimes "refuses to go to school."
"We were just scared to go outside," he said about the fallout after the Post's cover.
Barhoum said that staffers from the Post visited his home to take pictures, but never offered an apology. Click over for Wemple's full report.
The New York Post was roundly condemned for publishing its front page without confirmation of the suspects' identities from the FBI, and even more so after it was clear that Barhoum and the other man in the picture had no connection to the bombings.
Reddit users had already identified Barhoum as a high school student before federal authorities spoke out. The teenager told ABC News that he had been watching the marathon, and was shocked when his picture surfaced online and on the front page of the Post. He went to the police to clear his name.
The New York Post later reported that the two men were cleared, but never apologized for its front page. In fact, Post editor-in-chief Col Allan defended the paper's coverage, saying, "We stand by our story," and that the Post never identified the two men as suspects.
BEFORE YOU GO
PHOTO GALLERY
Manhunt For Suspect #2