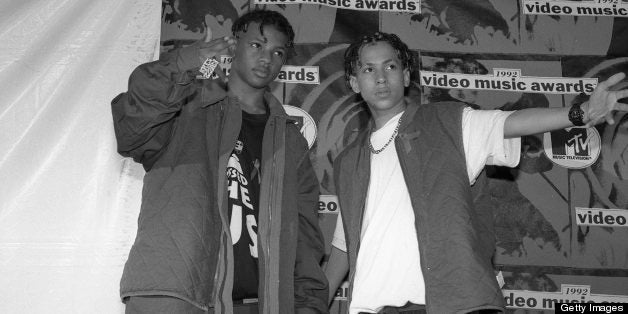 "We are currently investigating this as a drug overdose," Kay Lester, a Fulton County Police Department spokeswoman, told The Huffington Post. "There are no signs of foul play and we will continue with that investigation unless the medical examiner report indicates otherwise."
The Fulton County Medical Examiner's Office told The Huffington Post Thursday morning it has not released an official statement on the cause of the rapper's death, but will do so later on Thursday.
The Associated Press and others are reporting that Chris Kelly, one half of the 1990s rap duo Kris Kross, died Wednesday of an apparent drug overdose. He was 34.
Kelly, who was known as "Mac Daddy," and his partner Chris Smith (aka "Daddy Mac"), were only 13 years old in 1991 when they were discovered by music producer and rapper Jermaine Dupri while performing at the Greenbriar Mall in Atlanta. Dupri's label, So So Def, signed the boys and sent them into the studio to record their first album.
UPDATE: 4:35 p.m.
The Fulton County Medical Examiner's Office released an official statement regarding the status of Chris Kelly's examination:
"The physical examination of Christopher Kelly has been completed," a representative told The Huffington Post. "There is no indication of foul play or trauma. The cause and matter of death are pending toxicological results."
According to the office, those results will likely be released in several weeks.
BEFORE YOU GO
PHOTO GALLERY
Kris Kross Through The Years