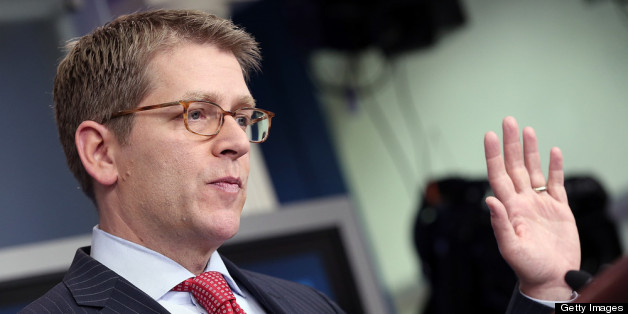 WASHINGTON -- White House press secretary Jay Carney said Thursday that the president supports LGBT inclusion in immigration reform, but wouldn't reject a bill just because same-sex couples are left out.
A bill put forward by the bipartisan "gang of eight" in the Senate would do nothing for the tens of thousands of same-sex couples unable to petition for legal status for the foreign-born partner. President Barack Obama has said he believes same-sex couples should receive equal immigration benefits. He's also said, though, that the gang of eight bill is largely good, even if it excludes provisions he would support.
Carney made the same point to reporters on Air Force One.
"We have said that we support that provision, but we also think it's very important to recognize that the overall bill here accomplishes what the president believes needs to be accomplished and is in keeping with his principles," Carney said, according to a transcript.
Sen. Patrick Leahy (D-Vt.) has said he will introduce an amendment to the gang of eight bill that would allow Americans and legal residents to petition for immigration status for their same-sex partners. The amendment is likely to mirror the Uniting American Families Act, of which Leahy is a sponsor, but many are skeptical the measure could make it into the final version. Sens. John McCain (R-Ariz.) and Lindsey Graham (R-S.C.), two members of the gang of eight, said early in the reform-crafting process that they would oppose any same-sex provisions in the immigration bill.
Carney declined to say whether the president had spoken to Leahy about the potential amendment, but said the White House is "in contact with all of the major players in this effort on a regular basis on Capitol Hill." Leahy is chairman of the Senate Judiciary Committee, which will consider the immigration bill.
Obama reportedly told immigration reform advocates earlier this week that he would support the gang of eight bill as it stands now, despite some issues.
"He said, 'If the bill were presented on my desk today, I would sign it,' " Janet Murguía, president of the National Council of La Raza, told The Washington Post. "He looked at the advocates and said, 'We're not going to get everything we want in this.'"
BEFORE YOU GO
PHOTO GALLERY
Supreme Court Proposition 8 Case