John Hodgman put out an unusual request on Facebook on Thursday afternoon, in advance of his sold-out show at The Birchmere: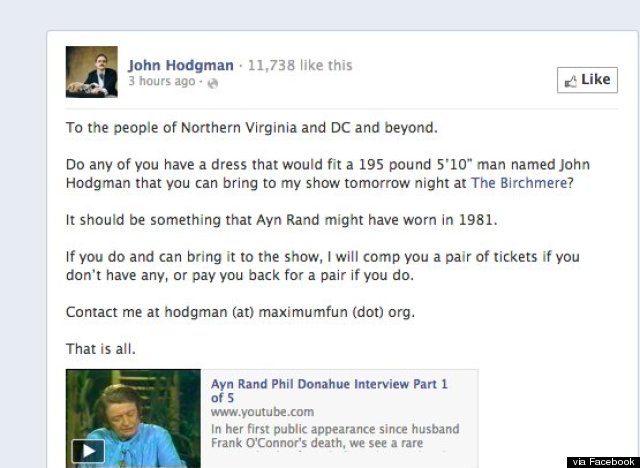 Or maybe not so unusual: Hodgman's been putting out the same call before other shows as well -- which prompted one Facebook poster to ask, "Wouldn't it be more efficient for you to invest in your own Ayn Rand dress that you carry with you at all times in case you need to get all objectivist on some people's asses?"
Libertarian Ayn Rand -- whose confusing views on charity can be read up on here -- definitely wouldn't approve of you giving Hodgman a dress out of a sense of obligation or duty.
To which Hodgman responds:
Everyone saying that my request for an Ayn Rand dress for tom'w's show is un-Randian is WRONG. I'M OFFERING FREE TIX. It's a transaction

— hodgman (@hodgman) May 2, 2013
He also promises to return the dress unharmed.
To clarify, I will return the Ayn Rand dress in good order after a single wearing that very night.

— hodgman (@hodgman) May 2, 2013
PHOTO GALLERY
Comedians We Love
BEFORE YOU GO