One day after talking trash to Carmelo Anthony at Madison Square Garden, Celtics reserve guard Jordan Crawford was on the receiving end of some harsh remarks on Twitter. Anthony's wife, La La, fired back at Crawford on Thursday.
Try again. You on the bench for a reason. instagram.com/p/Y0QM3-xjT5/

— LA LA(@lala) May 2, 2013
After not playing a single minute in the Celtics' Game 5 win over the Knicks on Wednesday night, Crawford engaged in a shouting match with Carmelo and Knicks point guard Raymond Felton. As the New York Daily News reported, "amateur lip-readers across the Internet suggested that it appeared that Crawford made a vulgar comment about Anthony's wife" during the heated exchange. The editors at the News felt confident enough in that appraisal of the content of the conversation that they referenced it on the back page on Thursday.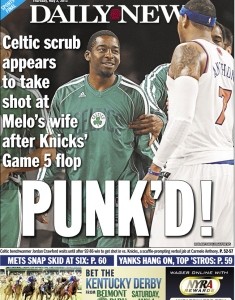 Several hours after that paper hit the newstands, La La hit back at Crawford on Twitter. La La's tweet was accompanied by a link to an image from her Instagram account that read "Strong Women Only Intimidate Weak Men."
Perhaps in response to La La's tweet or just to the rampant speculation over what he shouted (which was often accompanied by this Vine), Crawford denied he said anything about Anthony's wife.
I would never talk trash about that mans Wife. I don't him........ All I did was respond!!

— Jordan Crawford (@jcraw55) May 2, 2013
Know**

— Jordan Crawford (@jcraw55) May 2, 2013
For his part, Anthony downplayed the incident when he spoke with reporters after the game.
"I ain't thinking about no Jordan Crawford. I don't think he deserves for you to be typing right now," Carmelo said, via Bill Reiter of FOXSports.com.
Apparently, La La felt that a bit of typing was in order.
BEFORE YOU GO
PHOTO GALLERY
Best 2013 Sports Photos