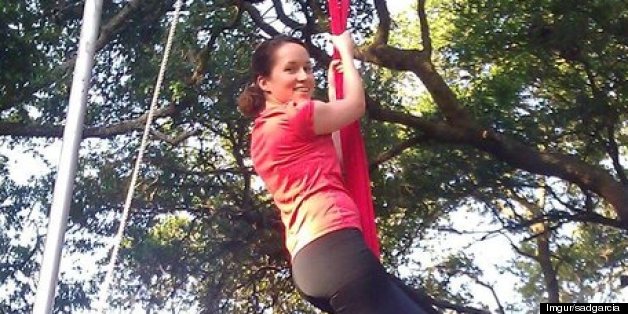 Ask anyone who's ever been there: Filing for divorce is a tough, depressing thing to do. You could spend the hours and days after you've filed crying into a big bowl of ice cream, but really, why be sad when you could be awesome instead? (Yes, we just borrowed a phrase from"How I Met Your Mother's" Barney Stinson. He's a wise man.)
Take, for instance, the awesome hobby Redditor SARARARARARARARARA picked up when her marriage ended. "Divorce papers filed yesterday. I felt worthless and decided to accomplish something today," she wrote. She wowed fellow Redditors with pictures of her accomplishment: channeling her inner Cirque du Soleil artiste and learning aerial fabrics -- a "circus art that combines the acrobatics with the artistry of dance and the exhilaration of height," according to the Stanford Athletics site.
Take a look at Sara learning the ropes in the gallery below:
Pretty awesome, right? So was the advice she left in the thread for others going through a tough time: "If you're feeling kind of low and scummy like I have been, try doing something new and fun. It really helps to take your mind off of things."
Head over to HuffPost Healthy Living to learn a little more about aerial fabric classes, then click through the slideshow below for some of the weirdest exercise trends from around the world.
PHOTO GALLERY
How The World Keeps Fit
Keep in touch! Check out HuffPost Divorce on Facebook and Twitter.
BEFORE YOU GO