Martha Stewart is officially on the market!
Stewart's Match.com profile has been revealed and the famous homemaker wants a man who makes over $150,000 a year, has a graduate degree, doesn't smoke and is between 5'10" and 6'6" tall.
SCROLL FOR PHOTO
"You may recognize me from my pictures. Yes, it's really me," Stewart writes in her alleged profile. (Match.com and Martha Stewart's rep did not respond to request for comment at press time.) "I'm told that I'm a specific person, and that the efficiency of online dating might be a good way for me to find that needle in the haystack."
She goes on to say she has been interested in online dating, but she has been "reluctant to take the leap." Until now, that is. Now, the 71-year-old multimillionaire is looking for her perfect match because "good relationships" are integral to longtime happiness.
As for her hobbies, the crafty diva lists: "Cooking, Dining out, Fishing/Hunting, Gardening/Landscaping, Movies/Videos, Museums and art, Shopping/Antiques, Travel/Sightseeing." And she probably wouldn't mind going on a date to Sushi Yasuda in New York City, which is listed as her favorite hotspot.
On Monday, Stewart announced her plans to join Match.com in an interview with the "Today" show. It seems she was spurred to action following a breakup.
"Well, I had a long-time boyfriend. That ended a couple years ago. And I haven't found the next Mr. Right," the grandmother of two said.
Stewart also got some love advice from Match.com chief executive Sam Yagan.
"What we know we can get you is some great first dates. I think finding a soul mate for you might be a little bit difficult, but I think first dates are easily doable," Yagan told her. He also said she shouldn't use her real name or photograph. "Only because I think it would be distracting to those initial conversations you have where everyone is going to be about talking to Martha, as opposed to really getting to know the person first."
However, it seems Stewart was willing to take the risk (if this is her real profile, of course).
PHOTO: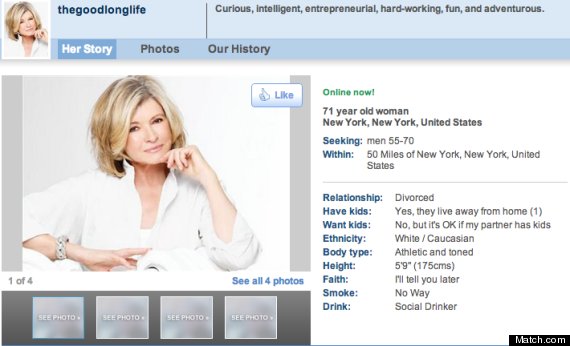 BEFORE YOU GO
PHOTO GALLERY
Martha Stewart's Modeling Career