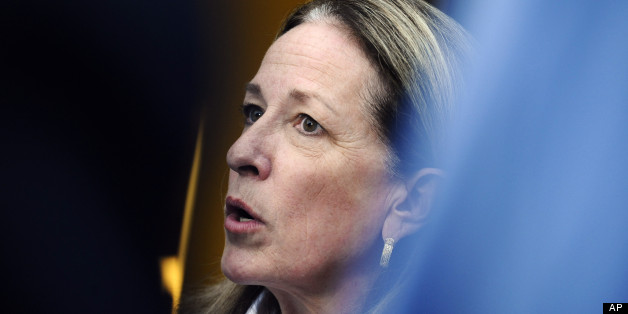 Today, HuffPollster takes a closer look at some surprising twists in allegations of 'push polling' in the South Carolina congressional race. PPP reports evidence of Democrats who voted for the gun bill faring better than Republicans in their states who voted against it. And consumer confidence is up, if you're a consumer who owns a lot of stock. This is the HuffPost Pollster update for Thursday, May 2, 2013.
PUSHING THE SC-01 'PUSH POLLING' STORY - Allegations of "push polling" in the Colbert Busch-Sanford race in South Carolina's 1st Congressional District took a bit of a twist on Thursday, as a prominent call center appeared to confirm some elements of the story but adamantly denied others, including the dates on which the offensive calls reportedly occurred.
Let's start with summary of the initial story from The Atlantic Wire's Philip Bump: "ThinkProgress spoke with two women in the state, each of whom said they'd gotten a call from someone claiming to be conducting a poll on next Tuesday's race. Among the questions that one woman, April Wolford, said she received were the following:
What would you think of Elizabeth Colbert Busch if I told you she had had an abortion?
What would you think of Elizabeth Colbert Busch if I told you a judge held her in contempt of court at her divorce proceedings?
What would you think of Elizabeth Colbert Busch if she had done jail time?
"And so on. It's worth clarifying at this point: There have been no reports that any of these things actually happened to Colbert Busch." [Atlantic]
Key details - The original ThinkProgress report said that Wolford received the call on her cell phone at 12:55 p.m. on February 25: Her caller ID screen reported "unavailable" rather than a telephone number or identifier, a live interviewer said she was calling from "SSI polling" and began with general questions about the race before asking the disparaging questions about Colbert Busch. [ThinkProgress]
Survey Sampling? - Most survey professionals recognize "SSI" as the acronym used by Survey Sampling, International, a well-regarded firm that has sold telephone poll samples for decades. Less known, however, is SSI's 2011 acquisition of Opinionology, a Utah based call center formerly known as Western Wats. [SSI]
SSI acknowledges doing a SC poll, but not this SC poll - In an update to their original post, ThinkProgress published comments from Ashlin Quirk, general counsel to SSI, who "confirmed that the phone calls containing similar content — including questions about Colbert Busch's divorce and possible credit card debt — have been placed into the district within the last few weeks on behalf of a third party, though not during the time frame given by Wofford or Rosse. Quirk would not confirm who the third party was, citing confidentiality. She said that her version of the call script did not contain any questions about a possible abortion, but acknowledged that other versions of the script may have been used." [ThinkProgress]
In a separate email to the Huffington Post, Quirk emphatically denied "push polling" in South Carolina: "SSI engaged in no telephone polls on behalf of any client in South Carolina relating to the special election in February, nor do we use the brand/identifier of 'SSI Polls'...We did conduct phone polls for third party clients in April in SC relating to the special election, however, they were not 'push polls' (using recognized AAPOR definitions), but rather messaging testing. In addition, SSI employs appropriate caller ID identification (unlike the poll calls described in the Think Progress story)."
So what is "push polling?" - The distinction between message testing and "push polling," as defined by the American Association for Public Opinion Research (AAPOR) and others can be murky. The gist is that in true "push polling" the entire enterprise is a sham, intended only to disseminate a scurrilous rumor rather measure opinions or test reactions to potential political messages. [AAPOR]
But the distinction is often semantic - Most pollsters would agree it is unethical to use a survey -- whatever we call it -- to spread a wholly untrue story or even a slanderous half-truth that a client has no intention of publicly embracing.
PPP FINDS MORE EVIDENCE OF BACKGROUND CHECKS' EFFECT ON APPROVAL RATINGS: The Democratic pollsters surveyed North Carolina and Louisiana: "PPP's newest round of polling finds that Kay Hagan and Mary Landrieu helped their cause for reelection with their recent votes in support of background checks for gun sales. More than 70% of voters in each of their states support such checks, and their constituents say they're more likely to vote for them next year because of their votes....Hagan and Landrieu are both faring a lot better on this issue than their Republican colleagues in these states. 50% of North Carolinians say they're less likely to vote for Richard Burr in the future because of his opposition to background checks, compared to only 27% who consider his vote to be a positive. And in Louisiana 40% of voters say they're less likely to vote for David Vitter in the future based on his vote on this bill, compared to just 25% more likely to." [PPP]
'HIGH EARNERS' BOOST RISING CONSUMER CONFIDENCE - The Bloomberg Consumer Confidence index improved this week to its highest level since November 2007. The reason? "The gain in sentiment is being driven by high-income earners as rising home and stock values bolster balance sheets, which may help underpin consumer spending. While easing fuel costs may help those at the other end of the pay scale, the higher payroll tax that took effect in January may be starting to hurt those households." [Bloomberg]
THURSDAY'S 'OUTLIERS'- Links to more news at the intersection of polling, politics and political data:
-Hillary Clinton preferred by 65 percent of Democrats nationwide. [Quinnipiac]
-Americans want more help paying for higher education. [Gallup]
-79 percent of Americans want the Washington Redskins to keep their name. [AP]
-A political science survey of activist Tea Party members finds there're not moderating or "going away anytime soon." [American Prospect]
-Jeff Flake pushes back on background checks poll. [TPM]
-Ashley Parker and Allison Kopicki explain why Americans "retreat into their partisan camps" on issues like gun background checks and immigration. [NYTimes]
-Nate Cohn concludes Obama would have won even with 2004's turnout. [TNR]
-Sean Trende predicts modest Democratic losses in 2014, with a chance of gains, and tsunamis in either direction unlikely. [RealClearPolitics]
-Kyle Kondik breaks down the numbers that make SC-01 a "very special" election. [Crystalball]
-Voter file data illustrates how cellphone area codes don't always represent where their owners live now. [Political Data Blog]
-Betsey Stevenson and Justin Wolfers list six ways to separate lies from statistics. [Bloomberg]
-Matt Asay warns of the costs of misreading "big data." [ReadWrite]
-Data scientists to "wipe out" business analysts. [Wired]
-"We are doing a poll about hipsters." [PPP]
CORRECTION: An earlier version of this story reported the date of the South Carolina 'push poll' call reported by ThinkProgress as February 5; the correct date is February 25.