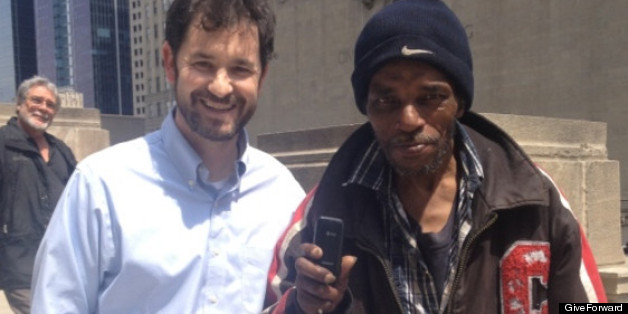 In the week since the heartfelt story of Ronald Davis went viral, strangers have stepped up to help the Chicago man find his footing after years of living on the street.
Several days after the year-old video reappeared last week, Shervin Pishevar reached out to his several thousand Facebook followers asking for help to find Davis. The Silicon Valley-based venture capitalist and angel investor with startups like Uber and Warby Parker started an online fundraiser shortly after with the goal of raising $25,000 to help Davis "get back on his feet."
"With one interview, Ronald Davis helped the world remember that every human being deserves to be treated with respect," Pishevar writes in the GiveForward site.
The campaign, which had raised over $7,700 as of Thursday morning, has inspired donors thus far to chip in anywhere from five bucks to hundreds of dollars. One donor from TreatDrop, a startup that helps users send real-time cashless "treats", led pledge efforts with a whopping donation of $1,500.
Per the campaign's goals, the money raised will help secure stable housing for Davis, as well as provide home goods, a work-ready wardrobe and professional career training from CTS in Chicago.
Pishevar's campaign wasn't the first effort to help Davis. Barely a day after the video went viral on Reddit, Chicago-based flight attendant Manny Huismann (a.k.a. EuroDucky to the Reddit community) set out to find Davis to deliver him a care package and let him know how his plea for dignity and respect had touched thousands of viewers.
"We as a community wanted to let [Davis] know that he is human, and that we care," Huismann told HuffPost Chicago after finding Davis.
On Monday, Pishevar's Chicago-based pal Michael Burke, co-founder and president of Appssavvy, ducked into a nearby RadioShack to buy Davis a phone, and took a video of Pishevar and Davis speaking for the first time (embedded below).
"I feel so good right now, words can't explain it," Davis is heard saying to Pishevar over the phone. "Thanks for everything, Mr. Pishevar. God bless you."
BEFORE YOU GO
PHOTO GALLERY
States With Highest Child Homelessness