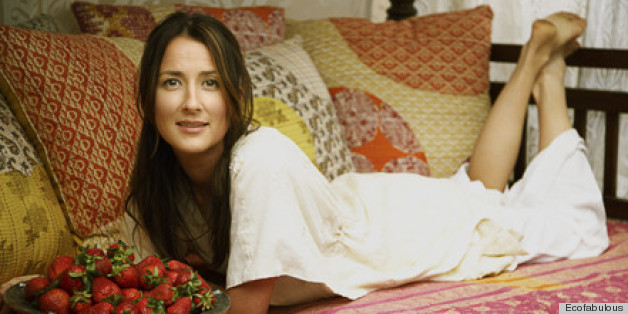 The Huffington Post is proud to present an article that was originally published on Ecofabulous.
We're excited to announce that the new Tastemaker Top Ten Series is in collaboration with eBay Green Team, where both Ecofabulous and Green Team readers get an inside look at the top smart and sustainable finds of influential voices from all fields (we have some exciting tastemakers in store for you!). See how top chefs, yogis, and celebrities are living in high style with low impact. To kick off the series we're excited to hear from Anna Getty –- organic chef, writer, and green living expert. Author of Anna Getty's Easy Green Organic, she's giving us her list of top green essentials for her (and your) kitchen.
Ecofabulous: What makes you feel ecofabulous?
Anna Getty: Finding vintage, up-cycled, recycled and eco-friendly gems no matter what they may be and being complimented on them.
Ecofabulous: At Ecofabulous, we often talk about the value (for your pocketbook and the planet) of buying pre-owned and vintage. Is there anything you're shopping for that's pre-owned lately?
Anna Getty: Clothing, jewelry, shoes and bags. I just picked up an awesome Lanvin necklace from the 70′s the other day. I would love to say kitchen items but I have to admit my kitchen is pretty well stocked so right now I am focusing on vintage fashion. In the past though I have loved picking up vintage charger plates, tea pots and cloisonné vases (most of them purchased on eBay actually) for entertaining.
Anna's Top Ecofabulous Picks:
1. Drink Well
I am a huge proponent of having a water filter of some kind in your home. This counter top water filter Ovopur by Aquaovo (which means water egg), is shaped like an egg and is both functional and high design. Looks fantastic on just about any surface.
2. Au Natural
I stopped using plastic cooking spoons years ago and love my bamboo spoons and spatulas by Bambuhome.
Shop for bamboo utensils on eBay
3. Bring on the Heat
Non-stick pans may be convenient but boy can they be toxic. There are more varieties available now than ever that are both efficient and not harmful to your health. The Original GreenPan is my favorite and uses Thermalon, a non-toxic coated ceramic surface. No scraping away scrambled eggs off this pan.
Shop for GreenPan products on eBay
4. Refills please!
At home I like my kids to drink out of stainless steel tumblers. They are non-breakable and non-toxic.
5. Serve in Style
One of my favorite Italian restaurants in Los Angeles, Cube, serves its cheese on little slate boards with the names of the cheese written in chalk. Go reclaimed with slate and serve up cheese the ecofabulous way.
Shop for vintage chalk boards on eBay
6. Keep it Clean
Les Indiennes makes beautiful Fair Trade Indian Block printed linens. I recently picked up 20 of these Petit Elephant napkins in French Grey for outdoor summer dinners.
7. Shop Smart
I am obsessed with my Chico shopping bags because they fold into themselves and so I can always carry a bunch of them with me no matter where I am in the world. Lots of great colors too. Their rePete bags are made from 99% recycled content and are machine washable.
Shop for Chico bags on eBay
8. See what's Inside
I love the old fashion look of Germany's Weck glass storage containers. The bottles are also fun to serve lemonade out of during the upcoming warmer BBQ months.
Shop for vintage canning jars on eBay
9. Just a Pinch
I love salt, then again who doesn't. I love having all different types of salts in little serving bowls, these hand made mini porcelain salt and pepper cellars with non-toxic glaze by Pigeon Toe Ceramics out of Portland Oregon are mini-works of art. I like the brass serving spoon too, sold separately.
10. Salt of the Earth
To that end Big Tree Farms Balinese Hollow Pyramid Sea Salt is my absolute favorite salt. Coarse in grain and with a subtle taste they are the perfect artisanal finishing salt. Big Tree Farms an ecologically sustainable business based out of Indonesia supports the local farmers, artisans and ecology. Definitely a company to support.