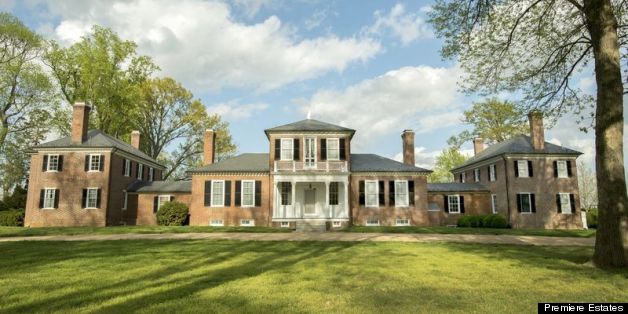 WASHINGTON -- Homes designed by Thomas Jefferson don't come onto the market very often, so if you're looking for a country retreat along the banks of Virginia's James River, now's your chance.
Brandon Plantation, a designated National Historic Landmark, hits the auction block June 26, only the third time it's changed hands since the colonization of Jamestown in 1607.
The 4,487-acre property includes a 7-bed, 6.5-bath Palladian-style main house that was "substantially" designed by Jefferson (whose most famous architectural feat, Monticello, lies 120 miles away).
Fields at Brandon, the "oldest continuous agricultural operation in the U.S.," continue to produce corn (189 bushels per acre in 2012), wheat (78 bushels) and soybeans (50 bushels). The property also includes six square formal gardens, a swimming pool, tennis courts and two river cottages.
Brandon was built around 1765 by Nathaniel Harrison II for his son, Benjamin. The home stayed in the Harrison family until 1926, when it was purchased by the Daniels family.
The auction of Brandon Plantation starts at noon on June 26. If buying an 18th century plantation isn't in your budget, go ahead and click through the slideshow to see the property inside and out:
PHOTO GALLERY
Brandon Plantation
If you're looking for new digs a little closer to the city -- or just want to daydream -- here are some of the D.C. area's most insanely expensive homes currently for sale:
PHOTO GALLERY
D.C.'s Most Expensive Houses
BEFORE YOU GO