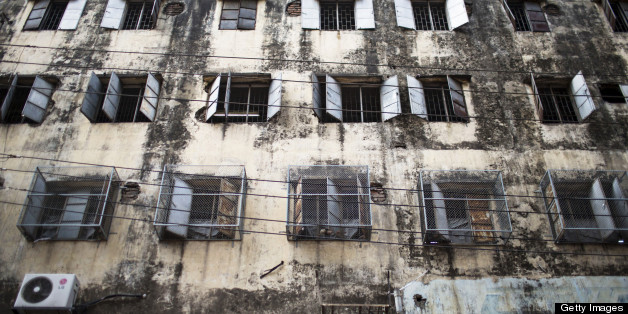 In the aftermath of a deadly collapse of a garment factory in Bangladesh, one North American retail giant whose products have been made there is accusing the global industry of failing to properly respond.
"I am troubled by the deafening silence from other apparel retailers on this issue," Galen Weston, the executive chairman of Loblaw, a Canadian apparel brand that used the Rana Plaza factory to manufacture its goods, said in Toronto on Thursday, during his company's annual meeting. "As many as 30 international apparel brands were having goods manufactured in this building, yet only two have come forward and publicly commented."
Weston announced that Loblaw will enact new rules aimed at preventing future tragedies. The company will now examine the structural integrity of factory buildings when it conducts audits of suppliers, and it will deploy employees to facilities that make its goods and have them send reports directly to corporate. The company is also forming a relief fund for the Rana Plaza victims and their families.
"I have reviewed several audits for this facility," Weston said at the meeting. "And while nothing in those reports suggested a problem, the scope of audits does not cover structural integrity. On this, workers were exposed to unacceptable risk."
Loblaw owns the clothing brand Joe Fresh, which on April 24 confirmed it had garments made at the doomed factory building. Multiple companies have come forward to say that they had suppliers in Rana Plaza, but many have taken pains to make clear they did not have clothes made there at the time of collapse.
British apparel retailer Primark, which confirmed that it sourced garments from a supplier on the second floor of the eight-story Rana Plaza building, has also made immediate moves to help victims and families, but has stopped short of publicly addressing future policy changes.
In a statement, Primark said it has partnered with a local NGO and will pay compensation to the victims who worked for the supplier. The company also didn't hesitate to observe that it wasn't the only retailer involved with the facility.
"Primark notes the fact that its supplier shared the building with those of other retailers. We are fully aware of our responsibility. We urge these other retailers to come forward and offer assistance," the statement said.
U.S.-based The Children's Place had a supplier located in Rana Plaza, but distanced itself by noting that none of its apparel was being produced there at the time of the collapse, the company said in a statement.
"We are fully aware of our responsibilities in the aftermath of this event and will be taking all appropriate steps to provide financial and other aid to those impacted," the company said, adding its "primary concern" is to get financial aid to the victims and their families as fast as possible.
Mango, Dress Barn and Benetton -- which all had connections to the factories at Rana Plaza -- did not respond to requests for comment Friday. Benetton initially denied any link to the factory, but later backtracked when photos appeared of the brand's products strewn among the building's rubble.
"We wish to confirm that none of the companies involved is a supplier to any of our brands," Bennetton said in a statement Monday. "Further to this, a one-time order was completed and shipped out of one of the manufacturers involved several weeks prior to the accident."
The Rana Plaza catastrophe is the most recent, and the most deadly, of a string of tragic factory incidents in Bangladesh, bringing attention to the fundamental problems of sourcing apparel from the country's garment factories. The deaths of more than 500 garment workers in the building's collapse on April 24 even prompted responses from retailers that weren't directly involved with the factory.
Walmart, which told The Huffington Post that it had "no authorized production" at the Rana Plaza facility, has made promises to improve the state of factories in Bangladesh. Walmart representatives took part in three independent meetings this week in Germany, Bangladesh and Canada to discuss factory worker safety.
International clothing retailer Gap, after being called out for walking out of a fire-safety reform meeting in 2011, claimed that it's one of the companies taking the lead to reform supplier practices in Bangladesh.
Debbie Mesloh, a spokeswoman for Gap, told The Huffington Post that "systemic change" is needed in Bangladesh if retailers want to protect garment workers.
Gap will continue to produce clothing in Bangladesh, but only as long as the company believes "progress is being made regarding the safety of the workers in our supply chain," Mesloh said. Gap also is touting multi-stakeholder involvement, including from the big apparel brands, U.S. and European governments, the International Labor Organization and local government, industry, and worker representatives in Bangladesh. "The energy for a meaningful solution is also present," said Mesloh. "We believe that this can be done."
Disney decided to pull out of Bangladesh in March, before the Rana Plaza disaster, as part of an ongoing push to reform its supply chain, The New York Times reported.
"These are complicated global issues and there is no 'one size fits all' solution," Bob Chapek, president of Disney Consumer Products, said in a statement. "We are hopeful that these decisions will also promote progress in the most challenged markets."
BEFORE YOU GO
PHOTO GALLERY
Bangladesh Factory Collapse (UPDATED)