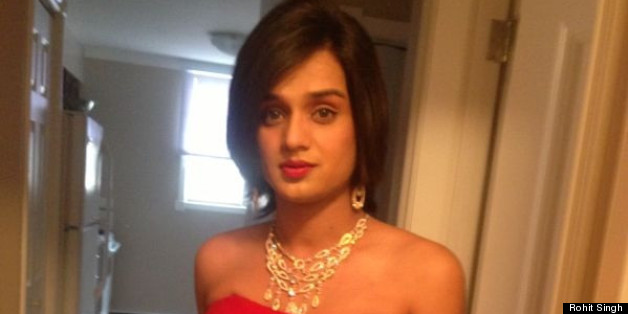 A transgender Canadian woman is crying foul after allegedly being denied service at a bridal boutique.
Of her experience at Jenny's Bridal Boutique in Saskatoon, Rohit Singh told CBC News both she and her husband were "embarrassed," and now plans to file a formal complaint with the Saskatchewan Human Rights Commission.
"It might happen to some other transgender that might come to the store and she will hurt the same," Singh, who has begun gender confirmation surgery, said. "I'm damn sure it's discrimination."
The shop's owner, who was not identified in the report, told CBC News, "If you see a man trying on dresses, you're going to feel uncomfortable."
As Shine On reporter Shereen Dindar points out, a Canadian bill making it a hate crime to discriminate against transgender citizens is currently awaiting Senate approval. "Transgender and transsexual citizens are among the most marginalized and are too often victims of harassment and acts of violence," New Democrat Randall Garrison is quoted as saying in that report.
Singh's case is merely the latest alleged incident of lesbian, gay, bisexual and transgender (LGBT) discrimination in the wedding industry.
In March, Richland, Wash. gay couple were shocked when their favorite florist turned them away after the pair announced plans to tie the knot in September. Of his experience at Arlene's Flower Shop, owned by Barronelle Stutzman, Robert Ingersoll noted, "It really hurt because it was somebody I knew."
Stutzman is now facing a lawsuit from the Washington State Attorney General, reportedly seeking a permanent injunction that would require her business to comply with the state's consumer protection laws, as well as $2,000 in fines for every violation of the law.
Earlier in 2013, an Oregon-based lesbian couple were turned away from a local bakery when they sought a wedding cake.
"I believe that marriage is a religious institution ordained by God," Aaron Klein, who owns Sweet Cakes Bakery with his wife Melissa, is quoted as saying. Specifying that he does not consider himself to be anti-gay -- "I'll sell [gay people] stuff...I'll talk to them, it's fine" -- Klein also noted, "I'd rather have my kids see their dad stand up for what he believes in than to see him bow down because one person complained."
BEFORE YOU GO
PHOTO GALLERY
LBGT Service Cases