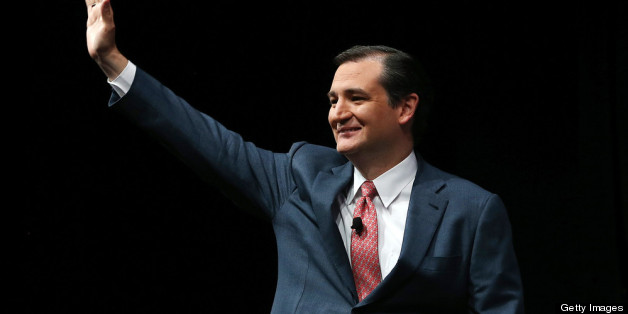 COLUMBIA, S.C. -– In the space of a few minutes here Friday night, Sen. Ted Cruz (R-Texas) went from talking about constitutional amendments to asking for people to send him text messages.
That's what talk of a presidential run will do to a politician when he comes to an early primary state.
Cruz, a 42-year old freshman senator from Texas, did all the things that a politician interested in making a foray into the 2016 presidential lottery would do, name-checking each of the Republican politicians holding statewide office, telling jokes, and trying to collect contact information for potential grassroots supporters by asking them to text "growth" to a five-digit number. Those who did so got a message from Cruz's political action committee, the Jobs, Growth & Freedom Fund, with a link to its website.
Cruz, who spoke earlier in the day at the National Rifle Association's annual convention in Houston, was the headline speaker at an annual Republican event, the Silver Elephant Dinner, that was held this year in honor of former Sen. Jim DeMint (R-S.C.), who last year vacated his seat early to take the reins of The Heritage Foundation, a conservative think tank in Washington.
Yet the tension between Cruz and others in his party was on display, even here at a celebratory dinner where drinks flowed freely from the open bar. Sen. Lindsey Graham (R-S.C.), the Palmetto State's senior senator, had sparing praise for Cruz during his speech from the stage, calling him "one of the smartest guys in the new class." But in an interview afterwards, Graham, though smiling and in a good mood, was frank in his assessment of the newly minted senator.
"I don't know what Ted's ambitions are. I think he's got a lot of talent. But the first thing he's got to prove to the country, and to people in Texas, is that he can, you know, throw a punch and also solve a problem," Graham told The Huffington Post. "Throwing a punch is important in politics. But you also gotta show that you can solve a problem.
"And I know he can throw a punch," Graham said. "I think he has the potential to solve hard problems. But time will tell."
Cruz's nearly 30-minute speech was built around what Republicans should do to protect the Constitution.
"We should be defending the Fourth and Fifth Amendments against an administration that recognizes no limits on its powers," Cruz said, referring to the amendments that protect against unlawful search and seizure by the government and that guarantee due process under the law. "Our freedom is in jeopardy in this country."
He boasted of standing up to members of the Obama administration, telling the story of his questioning Attorney General Eric Holder over the government's drone policy.
And he played prognosticator, predicting that the GOP will find its way back from the political wilderness where it finds itself after Mitt Romney's loss to President Barack Obama in last year's presidential election.
"A lot of Republicans are demoralized about November 2012," Cruz said, but then compared the current moment to 2005, when President George W. Bush had won a second term and Republicans controlled Congress, only to see Democrats retake the House and Senate in 2006 and the White House in 2008.
"Things can change quickly," Cruz said, and predicted a Republican takeover of the Senate in 2014. "I believe change will come quickly."
Cruz was just elected to Washington in November. But the son of Cuban immigrants and Harvard Law School graduate has shot to stardom -– with some in his party -– because of his willingness to challenge the status quo both in Washington and inside the GOP. He has not waited to be given responsibility and recognition from Senate leaders or his own party elders. Rather, Cruz has seized the spotlight by engaging in high-profile clashes with other senators. Cruz's staff has even taken on one of the top Republicans in the opposite chamber, the House Majority Leader, Eric Cantor (R-Va.).
The list of Cruz's confrontations in just a few months is already lengthy. During Secretary of Defense Chuck Hagel's confirmation hearing process, Cruz questioned whether the former Nebraska senator, a Republican, had received donations from terrorist groups, drawing a public rebuke from Sen. John McCain (R-Ariz.), who later told The Huffington Post that Cruz was a "wackobird" (McCain later apologized). But Cruz has taken pleasure in recriminations from fellow Republicans, telling activists gleefully that they shouted at him over his opposition to gun control legislation.
Cruz has begun to speak more forcefully against the immigration reform bill in the Senate, positioning himself as a more conservative version of a Latino Republican than Sen. Marco Rubio (R-Fla.), who is championing the bill. Perhaps the most audacious fight with other Republicans was at the staff level, when Cruz's chief of staff led an effort to sabotage a bill being promoted by Cantor in the House to create state-based high-risk insurance pools using money from Obamacare that the GOP said was otherwise going to be put in a slush fund.
Cruz has also used his spot on the prestigious Judiciary Committee to tangle with just about every cabinet member who has appeared in front of the body, most notably Holder and Secretary of Homeland Security Janet Napolitano. Cruz on Friday night regaled the audience with the tale of his back-and-forth with Holder over whether the U.S. government has the authority to kill a U.S. citizen on U.S. soil if they are not posing an imminent, immediate threat.
"I took the opportunity to ask the attorney general a few gentle questions," Cruz said. "I really thought in a minute he was going to say to me, 'I do not understand this Constitution to which you're referring.'"
Sen. Dianne Feinstein (D-Calif.) has chastised Cruz more than once, snapping at him for what she said was a lecture on the Constitution. She and others, including New York Times columnist David Brooks, have compared Cruz to former Sen. Joseph McCarthy, the Wisconsin Republican who defamed people by accusing them of communist activities in the 1950s.
Cruz has intense support from many in the conservative grassroots, in contrast to the way that the establishment GOP has looked at Cruz skeptically and even with hostility. The recent talk of Cruz as a potential 2016 candidate for president has been greeted with amusement by insiders from both parties in Washington. But there is no doubt that at the moment, Cruz has tapped into the rawest of emotions among the conservative base, which continues to applaud and reward those who most stridently and loudly oppose Obama.
One South Carolina Republican operative, however, said that Cruz does not yet have a political operation to speak of in the Palmetto State, which goes third in the primary process.
Cruz "has a few friends here," said the Republican, who asked to be anonymous. "Rubio has a whole network of people here already. [Sen.] Rand Paul [R-Ky.] has a decent network as well."
Of course, it's a long way from 2016. And if Cruz has any intention of building toward a 2016 run, Friday night gave him a start.
"We do expect you back in the state quite a bit," said state party chairman Chad Connelly.

BEFORE YOU GO
PHOTO GALLERY
Sen. Ted Cruz