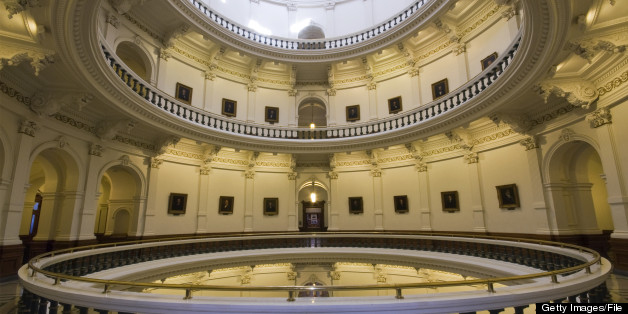 The Texas Legislature is changing its tune on immigration.
While acrimonious debates over voter ID and "sanctuary cities" grabbed headlines during the last Texas legislative session, this year Texas lawmakers have largely steered clear of the issue, even as the federal government considers a bipartisan proposal for comprehensive reform.
A pair of bills passed out of committee in recent days shows that the Texas legislature has adopted a more pro-immigrant tone, according to local news reports.
A bipartisan proposal in the state legislative body would allow undocumented immigrants to drive legally and purchase insurance in Texas if they pass a driving test and a criminal background check, submit fingerprints and prove state residency, the San Antonio Express-News reports.
"That's much better policy than what we have right now, where we have undocumented workers that are driving without a license and without insurance, and we don't know who they are or where they live," said Texas Rep. Byron Cook (R-Corsicana), according to the Dallas Morning News.
Another bill would prohibit law enforcement from asking crime victims and witnesses about their immigration status, the Ft. Worth Star-Telegram reports.
Though the proposals have yet to make it to the House floor debate, they mark a sharp change in tone from the last time the Texas Legislature met, according to the Texas Tribune.
The legislation, House Bill 3738, represents a dramatic shift from the anti-immigration rhetoric that permeated through the halls of the state Capitol just two years ago, said the bill's author, Lon Burnam, D-Fort Worth.
The Texas Legislature meets every other year for regular sessions.
The Texas legislature is also considering a resolution to back the current effort to pass bipartisan immigration reform in the U.S. Congress.
Democrats put forth the resolution but backtracked on the language in recent days in order to get support from Texas conservatives who have criticized offering a pathway to citizenship for the undocumented -- a plan they derisively refer to as "amnesty."
The resolution now favors a path to "earned legal status" rather than "citizenship," according to the Texas Tribune.
An estimated 1 million undocumented immigrants live in Texas.
BEFORE YOU GO
PHOTO GALLERY
6 Pols Against A Pathway To Citizenship