Glasses may not be the coolest accessory, but 2-year-old Sofia certainly wears them well.
The adorable toddler, who started wearing the flexible frames two weeks ago, has even picked up a new habit: She includes glasses in the majority of her drawings.
Speaking to The Huffington Post, her mother, Natalia Kowal, explained that she introduced the idea to incorporate eyewear into Sofia's drawings in order to make the glasses a "normal thing." But it was Sofia that really ran with the idea. Now, most of her smilies, kitties and monkeys sport specs.
Kowal posted a photo (seen below) on Reddit of her daughter drawing glasses on one of her doodles, and the pic quickly amassed hundreds of comments that range from "She is unbelievably adorable" to anecdotes about other childhood glasses experiences.
(Story continues below.)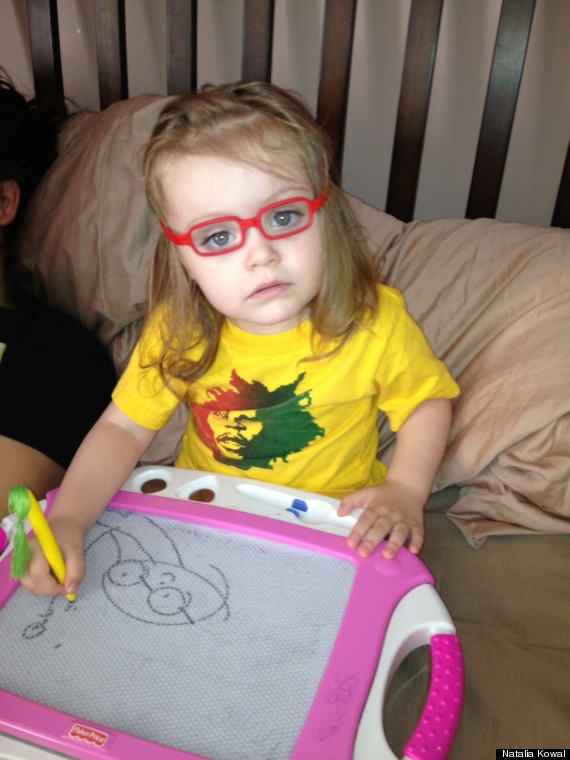 While it was easy to get Sofia to start including glasses on drawings, Kowal said making the toddler wear them regularly is a bit more difficult.
"She's very happy having them on when she's drawing or watching [TV]," Kowal told HuffPost. But when Sofia is running around outside -- not a chance. "We have to be around to put them on. She won't pick them up on her own," Kowal said.
As for Sofia's attire in the photo, Kowal confessed that she's not an expert when it comes to music, explaining that the shirt was passed on from a friend. But, she added: "Whatever you put on her is super cute, so of course she has a Bob Marley T-shirt."