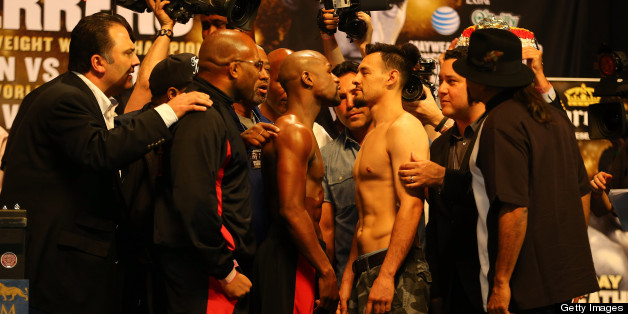 A few days after his father nearly instigated a brawl at a pre-fight press conference, Robert Guerrero (31-1-1) will get his own shot at Floyd Mayweather Jr. (43-0).
"The fighters are the ones who fight, not the fathers," Mayweather said after the heated exchange during which he was called a "woman beater," via The Associated Press.
With Mayweather's WBC welterweight title and flawless record on the line, the fighters will finally fight at the MGM Grand hotel in Las Vegas on Saturday night. This fight is Mayweather's first since serving jail time after a conviction on misdemeanor domestic violence and harassment charges. This bout is also the first of a blockbuster 30-month, six bout deal that Mayweather signed with Showtime earlier this year.
At age 36, Mayweather arrived for the bout as the favorite but is already talking about walking away from the sport after this contract is fulfilled.
"In 30 months my career is over," he said ahead of the fight, according to Dan Rafael of ESPN. "I want to rack up my six victories and hopefully do commentating and keep the sport of boxing alive. That's what I'm focused on."
Undoubtedly, Mayweather intends to head into that retirement with his record unblemished. While the oddsmakers favor him to wake up on Sunday with a 44-0 career record, Guerrero and his father have other ideas.
Can Guerrero pull off the upset?
STAY TUNED FOR LIVE ROUND-BY-ROUND UPDATES:
05/05/2013 1:01 AM EDT
44-0
@ SHOsports :

The man put on a clinic. The champ @FloydMayweather is 44-0. (117-111 x 3) #MayDay @GoldenBoyBoxing @MayweatherPromo
05/05/2013 1:00 AM EDT
Unanimous Decision
Floyd Mayweather retains the WBC welterweight title.
05/05/2013 12:46 AM EDT
IT's Over
Guerrero kept at it until the final bell but it's over. Mayweather with a dominant showing and Ruben Guerrero still shouting. We go to the cards... .
05/05/2013 12:44 AM EDT
Final Round
The 12th begins with both fighters showing a bit of sportsmanship and then into the clinch. The crowd is boooooooing as time ticks away. They're just letting this one tick tock down.
05/05/2013 12:43 AM EDT
Round 11
@ ChrisMannixSI :

Crowd starting to boo. One woman screaming "Booooring."Mayweather continues to one-punch Guerrero all over the ring. Total blowout
05/05/2013 12:41 AM EDT
Right Right Right
Mayweather still dominating action in the 11th and is still coming at Guerrero .. and boom there's left hook.
05/05/2013 12:39 AM EDT
Through 10
@ BlkSportsOnline :

Even in the rounds Guerrero does better, he just doesn't land anything. Can't solve the Mayweather riddle.. Rd 10 10-9 Mayweather
05/05/2013 12:39 AM EDT
Through 10
@ danrafaelespn :

Rd 10 more of the same. Floyd is blowing Guerrero out and looks good doing it.99-91 on my card. #MayDay #boxing @espn @SportsCenter
05/05/2013 12:38 AM EDT
@ SHOsports :

. @FloydMayweather is landing an incredible 61% of his power punches tonight. #MayDay @GoldenBoyBoxing @MayweatherPromo
05/05/2013 12:38 AM EDT
@ NYPost_Willis :

Amazing. Floyd stood in corner and Guerrero didn't throw a punch. Guerrero warned by referee Robert Byrd for dirty tactics during clinch.