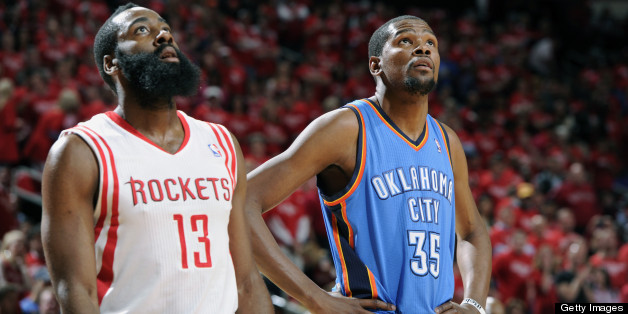 When Oklahoma City point guard Russell Westbrook went down with a torn meniscus on a seemingly harmless play at the hands of Houston's Patrick Beverley, the NBA playoff road past the Thunder juggernaut got a little smoother.
Westbrook is not without his faults, but at his best, he's an unstoppable force of nature -- a swashbuckling, freakish blend of athleticism and speed who has already made three All-Star teams at 24 years old. He is Kevin Durant's Robin, and on most teams, would be Batman.
With that in mind, let us rewind to three days before the regular season tipped off: Thunder GM Sam Presti dealt guard James Harden, who ended up with the Houston Rockets and became a superstar in his own right. Presti never could have imagined that Westbrook would miss time, because up until this injury, he had never missed a game in his pro career.
The issue moving forward for OKC is not merely a lack of scoring, but as Houston exposed in the first round, a lack of playmaking and sheer point-guard play. Specifically, while veteran Derek Fisher has hit some clutch shots, he no longer poses a threat off the dribble. Second-year man Reggie Jackson is a dynamic scorer, but far better suited to play off the ball than to facilitate.
The onus has unfairly fallen on Durant. Perhaps no player in the league is a more efficient and more gifted natural scorer, but the beauty of Durant's game is heightened by the remarkable pressure that Westbrook puts on the defense. Yet even with Westbrook in the lineup, the Thunder would never be confused with a ball movement-based offense. According to NBA.com, it ranked eighth-worst in the NBA in assist rate. In other words, most of its scoring comes from two of the game's premier isolation artists.
But do not mistake OKC-minus-Westbrook as a poor offensive team. Against the Rockets, the Thunder averaged 109 points per 100 possessions after he went down, even if the flow is not the same.
Durant -- both because he's so special and because he has to -- has assumed a point-forward role and initiated the half-court attack. The result has been a mixed bag; after a Game 5 defeat, he was perhaps as visibly upset and frustrated as we've ever seen him. But the main takeaway is that his efficiency -- normally stellar -- has suffered. In games 3-6 without Westbrook, he shot 35 percent from distance and turned the ball over 18 times. In Game 3 alone, Durant dribbled the ball 377 times, nearly 250 more dribbles than he averaged per game for the season, according to data from the SportVU camera system. To be fair, he has averaged a playoff career-high 32.5 points, but at what price?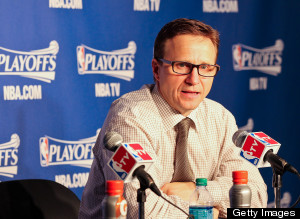 Thunder head coach Scott Brooks faces a significant challenge creating efficient offense without All-Star point guard Russell Westbrook. (Getty Images)
As the Thunder move forward in the playoffs with the quest of a second consecutive Finals' appearance, the team must first surpass a brutally physical Memphis team with perhaps the league's best guard-big defensive duo in Tony Allen and 2013 Defensive Player of the Year, Marc Gasol. Aside from Durant, where does the offense come from? Moreover, where does the creative offense come from?
Kevin Martin, the slithery scorer whom Presti acquired in the Harden deal, has been streaky in the playoffs, but is coming off his best outing yet, a 7-13, 25-point performance to help close out in Game 6. There is also the aforementioned Jackson, set to start just his fifth-ever game, all of which have come in these playoffs.
But then the well goes rather dry. Serge Ibaka is a pure pick-and-pop guy who relies on the playmaking of Durant and normally of Westbrook to get his looks. Swingman Thabo Sefolosha is a much improved stationary 3-point shooter, but not a guy who creates for himself or others. This makes it very easy for defenses to send unconventional traps Durant's way along with remaining overly shaded in the half-court.
Therein lies the incredibly tricky element for Thunder head coach Scott Brooks and his club. For a team that doesn't normally run a great deal of offense or rely on movement and misdirection, it suddenly finds itself at a rare crossroads. Durant may be the second best player on the planet and better apt than anyone to shoulder such responsibility, but it is his teammates who must step up to lighten the load.
Email me at jordan.schultz@huffingtonpost.com or ask me questions about anything sports-related at @Schltz_Report.
BEFORE YOU GO