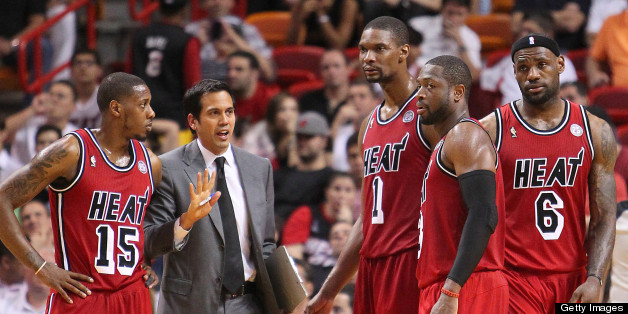 When you're talented and playing for a championship or bust while also trying to reach a third consecutive NBA Finals, defensive effort can come and go.
At times this season, that has been the case for head coach Erik Spoelstra and his Miami Heat. While a lockdown mentality fueled the 2012 title run, there were lapses and breakdowns in the recent first round against an overly matched Milwaukee Bucks team. Despite the 4-0 sweep, the Bucks still managed to shoot over 43 percent. While not a great number, it certainly doesn't reflect the type of defense Miami is capable of.
But is that something to worry about?
On my NBC Sports Radio show, Spoelstra said: "We have another level we can go to defensively ... a championship level."
"A championship level" for the Heat means two things: being on a string in the half-court and having quick-trigger rotations that lead to transition buckets; and shutting down the dribble-drive offense that exposes Miami on the back end.
Heat stars LeBron James and Dwyane Wade did a stellar job of that against the Bucks. The Heat caused more than 16 turnovers per game and the Bucks' gifted back-court duo Brandon Jennings and Monta Ellis were held to about 10 points below their scoring averages throughout the series. Jennings shot under 30 percent.
The tricky thing with the Heat is that because this team scores the ball so efficiently, defense can at times seem like a luxury. The old trap of "we don't really need to defend because we can just outscore you" is tempting, if not intelligent. After all, Miami has four-time league MVP James, Wade and Chris Bosh, and perhaps just as importantly, one of the game's most talented benches.
As Spoelstra said Friday morning about his reserves, they've "developed a real identity, that second unit."
That's for sure. Chris "Birdman" Anderson has embraced his role as an enforcer, Shane Battier defends elite scorers, and Norris Cole is once again eating up Mario Chalmers' minutes at point guard. There is also Ray Allen whose continued accuracy from the 3-point line defies explanation.
Yet even with all of the talent and cohesion, it is worth noting that the Heat -- despite finishing the regular season fifth in points allowed, per Hoopdata.com, ranked eighth in defensive efficiency, a more detailed and significant metric that measures points scored per 100 possessions.
That is a very good number, but it's also a 3.5-point drop from the 2011-12 season. And, since the half-court game generally dictates a prolonged playoff series, consider that the Heat allowed opponents to shoot 62.4 percent at the rim this season, an increase of nearly 5 percent from last year.
To say something is wrong with the Heat would simply not be true. However, this team has surely not peaked, which is a scary thought. An increased defensive performance though, would most definitely help its chances of securing a second straight world championship.
Email me at jordan.schultz@huffingtonpost.com or ask me questions about anything sports-related at @Schultz_Report.
CORRECTION: A previous version of this story misspelled Dwyane Wade's first name.
BEFORE YOU GO