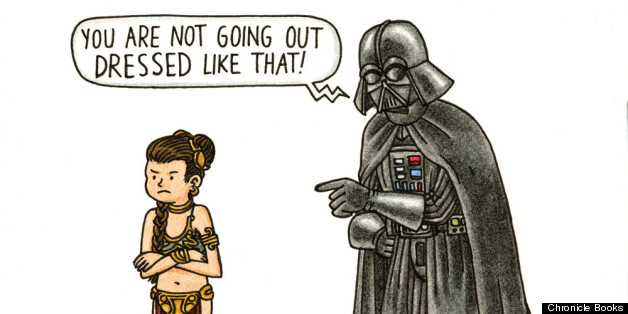 It was almost easy for Jeffrey Brown, a father of two boys, to come up with the material in his first book Darth Vader and Son. He drew inspiration from his own challenges in parenting a 4-year-old boy, and imagined how the Sith Lord would respond to similar shenanigans with a preschool-aged Luke. But what about the boy's twin sister? Wouldn't Leia have given old man Vader a run for his money? The author and lifelong Star Wars fan is (finally!) addressing that question in his follow-up book -- Vader's Little Princess.
While the first installment focused on Luke as a little kid, this one follows young Leia straight into teenagerdom. "I'd used so much of the prime 4-year-old material, so I had to change the age for new material. Especially with Leia, there was a lot more unexplored territory with parenthood, particularly with the issue of dating and watching your child grow up and head out into the world," Brown told the L.A. Times Hero Complex blog.
Given that the author had no real-life experience with raising daughters, he turned to his wife and friends to find out what important experiences should be incorporated. It's not all tea parties and fashion shows though. Many of the illustrations are moments that parents might experience with girls or boys. As Brown said in an interview with Newsarama "the challenge was really in not having the book become a collection of clichés about little girls or teenagers" and that talking to other moms and dads helped him "keep things a little more real." Y'know, like the reality of Daddy Vader seeing teen Leia make out with teen Han Solo.
Check out a few of our favorite illustrations below and find out more about the book here!
PHOTO GALLERY
BEFORE YOU GO
Vader's Little Princesss
PHOTO GALLERY
Vader's Little Princesss